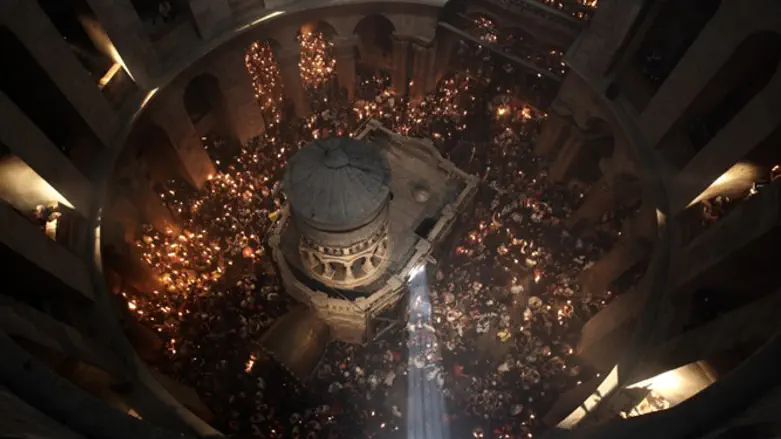 Church of the Holy Sepulchre
Flash90
The city of Jerusalem on Tuesday suspended tax measures and other actions that led to the rare closure of the church built at what is seen as the holiest site in Christianity, shut down all week in protest.
Christian leaders who have kept Jerusalem's Church of the Holy Sepulchre closed since Sunday were yet to respond to the decision and it was not clear whether it would reopen imminently.
The closure has left thousands of pilgrims and tourists seeking to visit the site locked outside, with some kneeling in front of its large wooden doors to pray in Jerusalem's Old City.
Dozens of protesters rallied outside the church on Tuesday afternoon in support of Christian leaders.
A statement from Prime Minister Binyamin Netanyahu's office said a "professional team" would be appointed to come up with a solution to tax measures imposed by city officials in Jerusalem firmly opposed by Christian leaders.
"As a result, the Jerusalem municipality is suspending the collection actions it has taken in recent weeks," the statement said.
Israeli Regional Cooperation Minister Tzachi Hanegbi (Likud) will also look into the issue of land sales in Jerusalem by Christian bodies.
During that time, a proposed law that Christian leaders say would allow Israel to expropriate church land is to be shelved, the statement said.
The church is built where Christians believe Jesus was crucified, buried and resurrected. Custody of it is shared by the Greek Orthodox, Armenian and Roman Catholic denominations.
Christian leaders are in part angry over attempts by Israeli authorities in Jerusalem to enforce tax collection on church property they consider commercial, saying exemptions only apply to places of worship or religious teaching.

Jerusalem Mayor Nir Barkat says the city is due 650 million shekels ($186 million) in uncollected taxes on church properties.
He stresses the Church of the Holy Sepulchre and all other churches are exempt, with the changes only affecting establishments like "hotels, halls and businesses" owned by the churches.
Christian leaders say the measure jeopardizes their ability to conduct their work, which also includes social services to those in need.