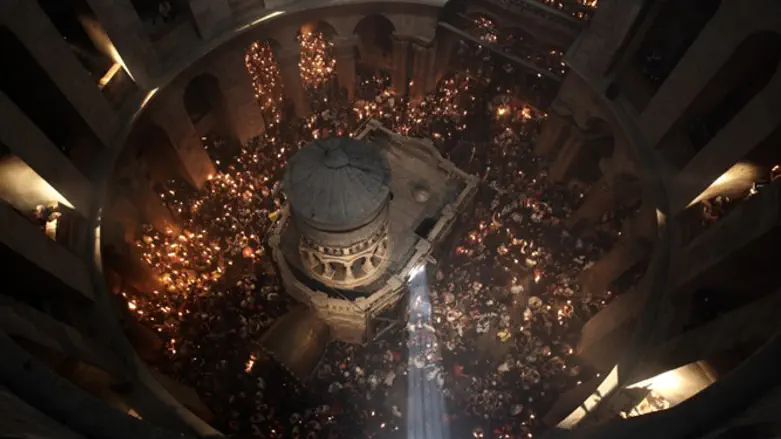 Church of the Holy Sepulchre
Flash90
The Jerusalem church built at what many consider the holiest site in Christianity remained closed for a second day Monday to protest Israeli tax measures and a proposed law, leaving hundreds of
disappointed and perplexed pilgrims locked outside.
Christian leaders took the rare step of closing the Church of the Holy Sepulchre on Sunday at noon in a bid to pressure Israeli authorities into abandoning the measures.
They said the church, a major pilgrimage site where thousands visit daily, would be closed until further notice.
Church officials said Monday it was not clear when it would reopen, depending on discussions with Christian leaders and Israeli authorities.

Disappointed tourists gathered Monday in front of its large wooden doors in Jerusalem's Old City hoping they would have the chance to visit, some having difficulty understanding why it was closed.
Some held an improvised prayer around a wooden cross.
"We were told it's political. It is disheartening -- it is such a holy place," said Aleana Doughty, a 35-year-old dental hygienist visiting with a group from the United States.
Michael Katten and his wife Vanagakshi, visiting from India, were also locked out. Vanagakshi said she had promised to bring her mother something from the church and say a prayer.
"It is silly that they cannot solve this," Michael Katten said.
Christian leaders are angry over attempts by Israeli authorities in Jerusalem to enforce tax collection on church property they consider commercial, saying exemptions only apply to places of worship or religious teaching.
They also say legislation being considered by Israel's government would allow church property to be expropriated.
EU foreign policy chief Federica Mogherini told reporters in Brussels "we hope that a solution can be found quickly."
"Jerusalem is a holy city to the three monotheistic religions. The special status and character of the city must be maintained and respected by all."
The Lutheran Church of the Redeemer, located near the Holy Sepulchre, was also closed in protest on Monday.

Jerusalem Mayor Nir Barkat said the city is due 650 million shekels ($186 million/152 million euros) in uncollected taxes on church properties.
He stressed that the Church of the Holy Sepulchre and all other churches are exempt, with the changes only affecting establishments like "hotels, halls and businesses" owned by the churches.
Christian leaders say the measure jeopardize their ability to conduct their work, which also includes social services to those in need.
A separate bill seeks to allay the fears of Israelis who live in homes on lands previously held by the Greek Orthodox Church and which were sold to private developers, according to the lawmaker proposing the legislation.
Recent land sales by the Greek Orthodox Church -- a major landowner in Jerusalem -- to unknown buyers have drawn fire from both Israelis and the PA.
The PA fears the sales will facilitate Jewish construction in eastern Jerusalem, while Israelis are concerned over private developers' intentions for the land.
The bill would allow certain lands sold by the Greek Orthodox Church to be handed over to the state, which would then compensate those who bought it from the church.
"This reminds us all of laws of a similar nature which were enacted against the Jews during a dark period in Europe," Christian leaders said in a statement on Sunday.
They also said recent Israeli measures seemed to be "an attempt to weaken the Christian presence in Jerusalem".

The decision to close the church was extremely rare.
In 1990, Christian sites including the Holy Sepulchre were closed for a day to protest the installation of Jews in homes near the church.
Christian sites were shut for two days in 1999 to protest the planned construction of a mosque near Nazareth's Church of the Annunciation.

Visits to the Church of the Holy Sepulchre are expected to increase for Easter, which falls on April 1 for Western Christians and April 8 for the Eastern Orthodox.
"A lot of people spent a lot of money to come see the most pivotal place of their faith," said Father Kevin Peek, a 47-year-old visiting with a group of 27 people from the United States.
"So of course they are disappointed. But we looked it up on the internet, we read the statement of the churches and we completely understand."