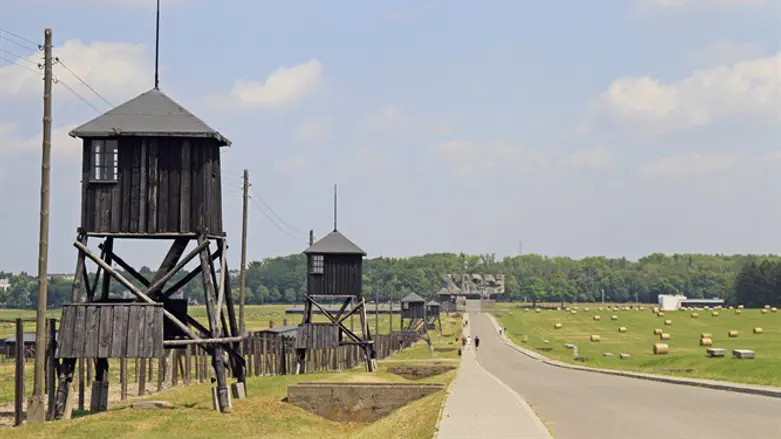 Majdanek concentration camp
iStock
The Ruderman Family Foundation, an American Jewish philanthropic organization, launched a campaign urging the United States to suspend its ties with Poland over that country's law on rhetoric about the Holocaust.
The campaign includes a petition for suspension hosted on the NeverDeny.org website and a professionally produced video message. It shows men, women and children saying "Polish Holocaust," which is supposed to be in defiance of the law passed by Poland earlier this month.
The law criminalizes blaming the Polish nation or state for Nazi crimes. Under the law, phrases such as "Polish death camps" punishable by up to three years in prison. The law would apply to both Polish citizens and foreigners.
Israel and several Jewish organizations, as well as the Department of State and the France's Foreign Ministry, protested the law. Yad Vashem, the Holocaust museum in Israel, also opposed it while noting that blaming Poles for the Holocaust and use of the phrase "Polish death camp" is unfair.
Ridiculing the law, one of the people in the film produced by the Ruderman Family Foundation – an organization focused on facilitating greater inclusion for people with disabilities and strengthening ties between American Jews and Israel – is seen standing in a bar holding a beverage while saying "I wonder if they have been in Polish prison."
A mother sitting on a sofa with two children is filmed saying: "I'll miss them when I'm gone," referencing her imagined imprisonment. An elderly man is seen saying: "No Polish prison scares me."
The people filmed then say that "after 3.5 million Jews were murdered in Poland, including hundreds of thousands of children, the Poles have passed a new law." They then add: "I will go to jail" and: "Repeal this disgraceful law now."
The website set up by the Ruderman Family Foundation for the petition does not say how many signatures it has gathered so far.