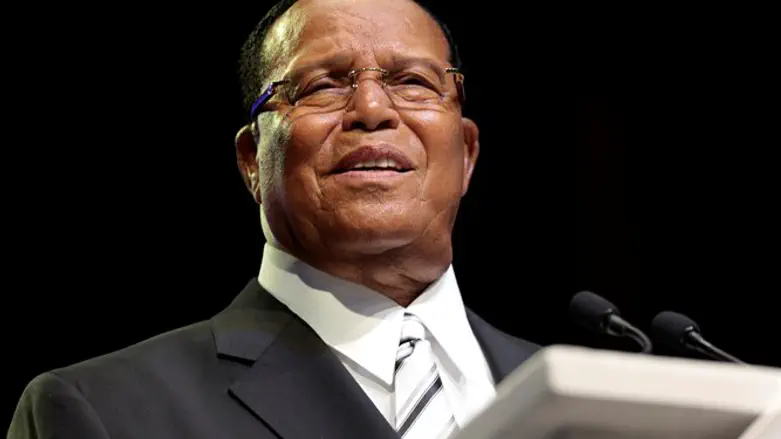 Nation of Islam leader Louis Farrakhan
REUTERS
Democratic Congresswoman Maxine Waters came under fire over the weekend, after it was revealed that she had attended a Nation of Islam event headlined by Louis Farrakhan.
Waters, the 79-year-old 13-term representative for California's 43rd Congressional District, took part in a 2002 Nation of Islam event in Southern California which included a keynote address by the movement's leader, Farrakhan.
First publicized over the weekend, Waters' participation in the event was confirmed after archived C-SPAN footage of the event was uncovered.
Farrakhan has long been a controversial figure within the Black Muslim community in Chicago, praising Adolf Hitler as a "very great man", and slamming Judaism as a "gutter religion" during a 1984 speech, leading the US Senate to condemn him in a unanimous 95-0 vote.
The Nation of Islam leader has continued to use explicitly anti-Semitic rhetoric, calling American Jews "satanic" in a 2013 sermon in Detroit.
During the 2002 Nation of Islam convention which Congresswoman Waters attended, Farrakhan noted Waters' appearance at the event and praised her during his address.
"We have Maxine Waters here," said Farrakhan as he pointed to her, "our great congresswoman from this area," Farrakhan said at the Nation of Islam's 2002 "World Saviour's Day" convention in Inglewood, California
"A lot has been going on in our government - good people like Maxine Waters," Farrakhan later added.
Later in the address, Farrakhan defended Arab suicide bombers targeting Israeli civilians.
"You know, every time one of the Palestinians comes strapped with a bomb, the response from the Israeli government is the use of F-16 planes, which are American, tanks from America, helicopter gunships, which are from America, rockets from America."
"The Palestinians have nothing to defend themselves with. So they're so exhausted and exasperated, that they're strapping bombs to themselves – making themselves a weapon. And then for the world to get upset because Iran or somebody is trying to send them some weapons – well, wait a minute, if you were Jewish, and you saw unarmed Jews being persecuted, wouldn't you come to your brother's aid. Do you expect Muslims to see their brothers suffering like that and not come to their aid?"
"As a Muslim, I feel the pain of the Palestinians."
Three years later, the two met at a 2005 event in New Orleans in the aftermath of Hurricane Katrina. Waters and Farrakhan embraced during the meeting, and exchanged their thanks.
The revelation of Waters' meeting with Farrakhan and her attendance of the Nation of Islam event is not the first time a Democratic politician has been outed for ties to the radical group.
Last month, a photograph taken during a 2005 meeting between then Senator Barack Obama and Farrakhan was released, after having been kept from the press for nearly 13 years by the Congressional Black Caucus. Obama, it was also revealed, had employed an active member of the Nation of Islam in his Chicago office while serving as senator.
Earlier this month, TheWall Street Journal revealed that Democratic National Committee Deputy Chairman Keith Ellison had taken part in a 2013 event along with Iranian President Hassan Rouhani and Farrakhan.