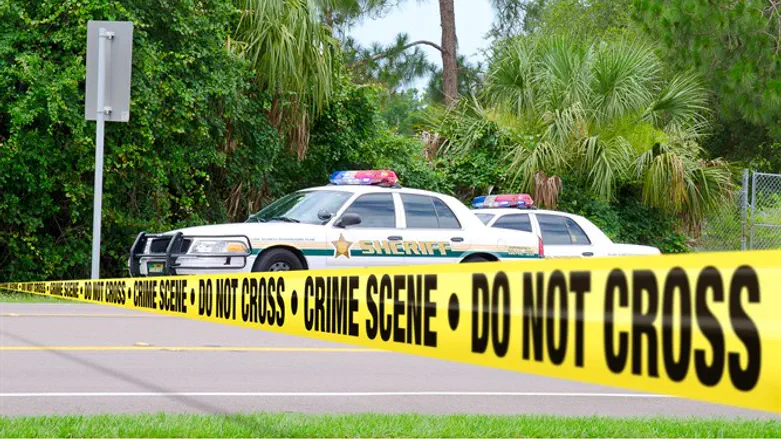 Florida crime scene (stock image)
iStock
At least five Jews were shot and killed during the mass shooting in a Parkland, Florida high school Wednesday, a spokesperson for the ZAKA emergency response group reported Thursday, while a sixth was wounded in the melee.
Seventeen people were killed during the massacre, and 14 more were wounded.
On Thursday, 19-year-old Nikolas Cruz was indicted on 17 counts of first degree murder after being interrogated by state and federal law enforcement officials.
Parkland, Florida has a large Jewish community, locals say, and a significant portion of the student body at Marjory Stoneman Douglas High School, where the shooting took place, is Jewish.
"This is a small community, where nearly half of the population is Jewish, so everyone has been touched by what has happened," said Rabbi Shuey Biston, of the Chabad of Parkland.
ZAKA has identified five Jewish victims from the massacre, including 14-year-old Jaime Guttenberg, 15-year-old Alyssa Al-Hadeff, 18-year-old Meadow Pollack, 35-year-old geography teacher Scott Beigel, and 49-year-old, Alex Schachter.
Fourteen-year-old Martin Duque, a freshman, was also confirmed dead on Thursday, Newsweek reported.
A sixth Jewish victim, Ben Wikander, was shot three times but survived the ordeal.
Local Jewish leaders say they believe a sixth Jewish victim was killed in the massacre.
Authorities have yet to identify all of the victims of Wednesday's shooting, and 10 students remain unaccounted for.
Relatives of the slain students had called for assistance in locating their lost children – only to discover that they were among the 17 killed.
"We know she's missing," wrote Al-Hadeff's grandmother, the Evening Standard reported. "We can't find her. The phone was tracked to the school."
Senior Meadow Pollack's father, Andrew Pollack, waited outside of a local hospital, hoping to find his daughter.
"We can't locate her, I keep looking at my phone, I don't know where to go from here."
Nikolas Cruz, a 19-year-old former student at Marjory Stoneman Douglas High School in Parkland Florida, was expelled last year for "disciplinary reasons". According to math teacher Jim Gard, Cruz had been expelled after he had threatened fellow students.
On Wednesday, Cruz returned to campus armed with a semi-automatic rifle, numerous ammunition magazines, and smoke grenades.
In the melee that ensued, Cruz shot and killed 17 people, and wounded another 14.
Cruz later escaped the scene of the shooting, blending in with students fleeing the massacre. Police managed to track Cruz down, however, and arrest him in the neighboring town of Coral Springs.
Broward County Sheriff Scott Israel said the alleged shooter was taken into custody "without incident".
State and federal authorities interrogated Cruz Wednesday evening, after he had been treated for labored breathing, AP reported.
On Thursday, Cruz was formally charged with 17 counts of first degree murder, and ordered to be held in custody without bail until the end of his trial.
President Trump tweeted Thursday that mental illness was likely involved in Cruz's decision to attack his former school.
"So many signs that the Florida shooter was mentally disturbed, even expelled from school for bad and erratic behavior. Neighbors and classmates knew he was a big problem. Must always report such instances to authorities, again and again!"
An orphan, Cruz and his brother Zachary had been adopted by a New York couple when they moved to Florida's Broward County.
Cruz's adopted father died from a heart attack several years ago, and last November, his adopted mother passed away from pneumonia.