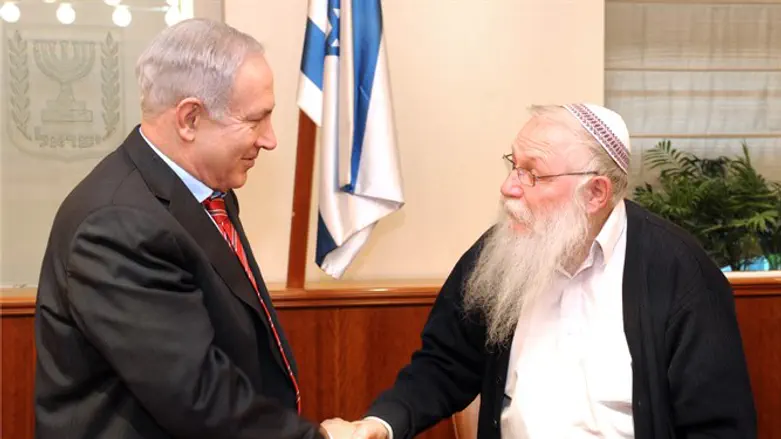 Netanyahu and Rabbi Druckman
Avi Ohayon (GPO)
Senior rabbis in the religious Zionist community, including Rabbi Chaim Druckman, Rabbi Yaakov Ariel, Rabbi Tzfania Drori, and Rabbi Dov Lior signed an appeal to Prime Minister Binyamin Netanyahu to promote a new Basic Law on Torah study.
"You have a great privilege, another one of many that you enjoy as the head of our government. In the coming days, the Basic Law for Torah Study will be presented to the Knesset. The bill seeks to enshrine Torah study as a basic value in our renewed Jewish State," the rabbis wrote to the Prime Minister.
"This bill is important to the State of Israel and you will have a great privilege once it has been ratified on your watch. We encourage you to support the bill and promote it as soon as possible."
To read the entire letter in the original Hebrew, click here.
The rabbis make it clear that anchoring Torah study in the law does not indicate an intention to evade military service. "We will ask you to make sure that during the discussion of the bill it is unequivocally clarified that Torah study allows only a temporary postponement of observing military service, and in no way exempts, as Maimonides ruled that in an obligatory war, even a groom leaves his room and a bride her wedding canopy.
"We have no doubt that strengthening the status of the Torah of Israel and its students in the Basic Law will greatly contribute to the State of Israel, deepen our national recognition of the importance of the Torah, and be an additional important element in raising our prestige and the sprouting of our redemption. With the blessing of the Torah, the nation, and the Land," the rabbis closed their letter to the Prime Minister.
The proposal, which was drafted by haredi MKs following the Supreme Court's nullifying of a law extending draft deferments for full-time yeshiva students, would classify Torah study as a "basic value" for the State of Israel.
"Torah study is a fundamental part of the heritage of the Jewish people," a draft of the bill reads. "As a Jewish state, the State of Israel sees great importance in encouraging Torah study."
The bill goes on to "guarantee" as a right protected by law army deferments for full-time yeshiva students.