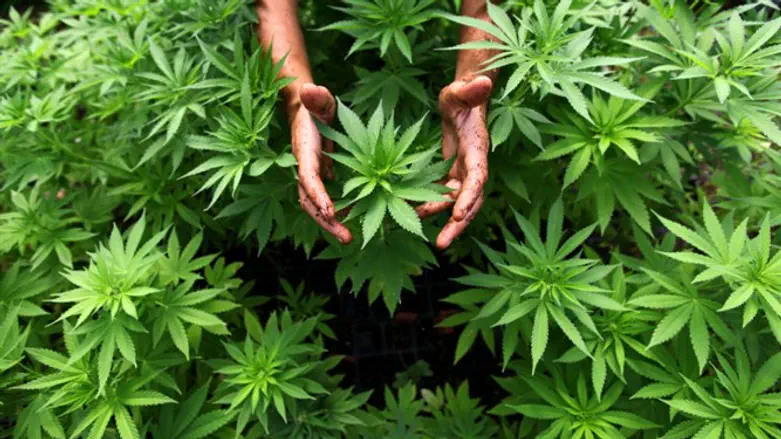 A worker tending to cannabis plants at a growing facility near Tzfat
Abir Sultan/Flash 90
Israel has halted a plan to export medical marijuana at the request of US President Donald Trump, reports said.
The plan would include relaxing Israel's strict criteria for exporting medical marijuana.
Israeli Prime Minister Binyamin Netanyahu ordered the plan to be frozen early this week despite support from the Health, Agriculture and Finance ministries, Hadashot news reported Wednesday evening.
Netanyahu told the heads of the ministries he ordered the freeze after receiving a call about the issue of exporting marijuana from Trump, who is against its legalization. Netanyahu made it clear that he did not want Israel to be a pioneer in the export of medical marijuana, according to the report.
Canada is the only country that has approved the export of medical marijuana.
A Finance Ministry representative reportedly suggested that Israel could avoid exporting to the United States in order to appease Trump. However, Netanyahu insisted that would not necessarily serve Israeli interests to go against the Trump administration's policy.
"I spoke with Trump and he told me about his general opposition to the legalization of cannabis, and I'm not sure Israel should be the export pioneer," Netanyahu was quoted as saying.
Medical marijuana has been permitted and encouraged in Israel for over a decade, but recreational use of the drug is forbidden. In March 2017, Israel partially decriminalized marijuana in a move which Meretz's Tamar Zandberg said was "a message that a million Israelis who use cannabis aren't criminals."