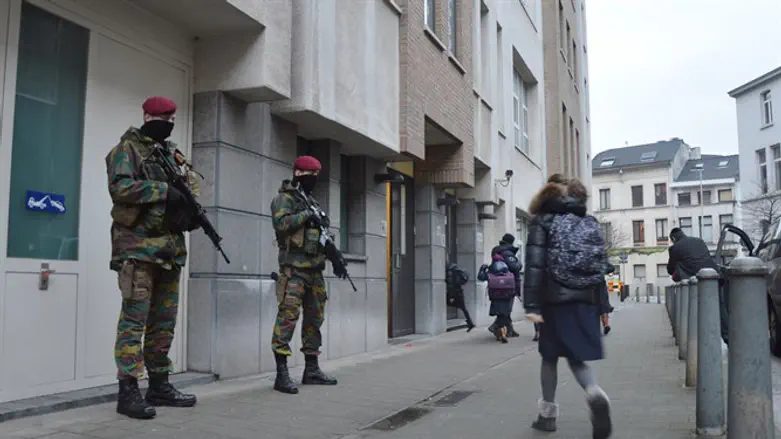 Soldiers secure Jewish institutions in Antwerp (archive)
Michael Freilich/Flash 90
Police in Belgium have arrested a man who is suspected of trying to ram with his car an Orthodox man and a child on a street in Antwerp, JTA reported Saturday.
The incident occurred on Saturday morning while the man and the child were walking to synagogue and was filmed by security cameras.
The footage shows a black Seat Ibiza car swerving sharply while speeding on Isabellalei, a central street in Antwerp, toward the alleged victim and a boy, who is the man's son, according to the Antwerp-based Joods Actueel Jewish monthly.
The car is seen intersecting a bike path, apparently while speeding. The car then climbs the curb as the two alleged victims are walking toward it, prompting them to jump away from the curb and toward the safety of the building facades.
They jump behind a lamp post. The car swerves back wildly, returning to the road from its incursion into the sidewalk. The father ran after the car as it sped away.
Joods Actueel reported that witnesses said the driver had foreign origins. While their report did not name the man or offer any additional information on his identity, Israel's public broadcaster Kan News reported that the driver was of Muslim origin.
The suspect was tracked down through the footage of the license plate. He is to be arraigned Sunday on suspicion of attempted manslaughter.
In September, a Jewish man in Antwerp was physically assaulted as he made his way home from synagogue on a Friday night. The victim was accosted by a local youth, who hurled anti-Semitic epithets at him.
The assailant, who apparently is a recent convert to Islam, then physically assaulted the haredi man, punching him in the face and leaving him injured.
About 12,000 of Belgium's 40,000 Jews live in Antwerp, which also is the location of two thirds of the country's synagogues and a significant hasidic community.