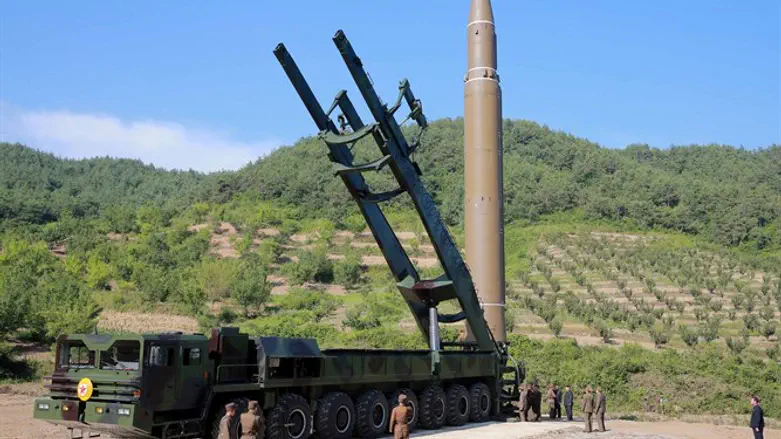 Iranian missile system
Reuters
A senior US counterterrorism specialist said that the United States are working closely to combat Iran's influence in the Middle East.
United States State Department Counterterrorism Coordinator Nathan Sales told Ynet that the United States has "no doubt that Iran is a serious threat to Israel and to the United States" and called the Islamic Republic "the common threat that has been the basis for a very fruitful cooperation in the fight against terrorism between our two countries over the years."
"The United States has no illusions about Iran's malicious intent in the region, or about its ability to project its power and spill blood around the world," said Sales, who is in Israel for the annual Institute for National Security Studies (INSS) conference.
"Iran can be stopped, it is not invincible," Sales added. "Iran is vulnerable because it has chosen to use illegitimate means such as terrorism to shed blood and sow disorder in the world, and we see its bloody fingerprints in the region, such as its support for Bashar Assad's regime."
Israel has been actively fighting Iran's attempt to take over the Middle East and has been watching its activities in Lebanon and Syria with concern. Earlier this week, IDF Spokesperson Brigadier General Ronen Manelis published an unusual op-ed in a number of Arab-language news sites warning that Iranian attempts to produce missiles in Lebanon would spark a regional conflagration.
"In every place where there was instability, we discovered Iran's fingerprints and everywhere we discovered Hizbollah's involvement: to Syria they sent thousands of fighters; in Yemen, the battles were intensified by hundreds of advisers; and even to Gaza, Nasrallah boasted that he sent special anti-tank missiles and even met with representatives of all the Palestinian terrorist organizations, some of whom this year also moved to neighboring Dahiya in Beirut. Billions flow from Tehran through Beirut to any place in the Middle East where there is calamity and terror," wrote Manelis.