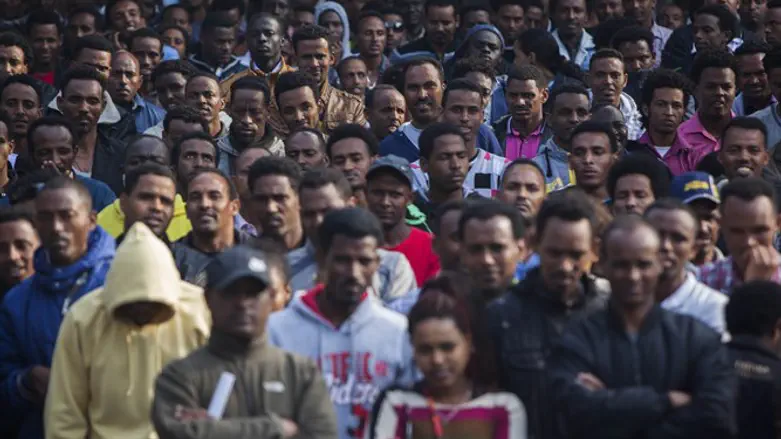 Infiltrator protest in Tel Aviv
Flash 90
A poll conducted by Israel Hayom and New Wave Research showed that most Israeli citizens support the government's decision to remove illegal infiltrators from Israel and send them to a safe third country in Africa.
When asked whether Israel needs to deport illegal Eritrean and Sudanese infiltrators, 58% of those polled said yes, and 23% said no.
When asked whether the infiltrators from Sudan and Eritrea are seeking political asyum or migrants looking for jobs, 51% of responders said they believe the infiltrators are "job seekers," and only 37% said they are "asylum seekers."
In addition, 63% of Israelis support the decision to remove the infiltrators to a third country in Africa, and 20% opposed the decision. 59% of Israelis do not believe that Israel has a moral obligation towards the infiltrators, while 24% said they believe Israel does have a moral obligation towards them.
Israel's plan offers the nearly 40,000 male, unmarried infiltrators, who entered Israel illegally, the opportunity to leave voluntarily before the end of March and receive $3500 compensation. enough to live on for as long as a year in the countries which agreed to accept them and to which they are to be flown. Anyone still in the country after that date will be arrested and deported without compensation.
Families and bona fide refugees are not included in the plan.
Israeli residents of southern Tel Aviv - where most of the infiltrators live - have long complained of their presence, the increased crime rate endangering Israeli citizens, and the city and Supreme Court's preference for infiltrators over Israeli citizens. The government's current plan has been approved by the Supreme Court, after all its previous objections were complied with by the Justice Department.