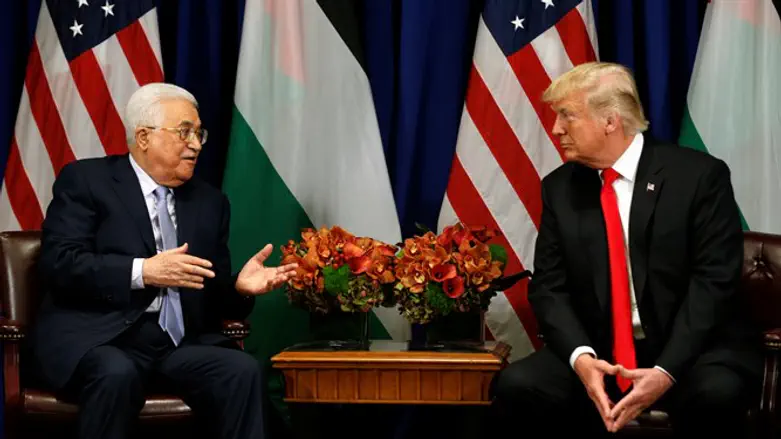 Abbas and Trump
Reuters
The United States is considering more sanctions against the Palestinian Authority as it continues to refuse to sit down for talks with Israel, officials in Washington told Hadashot (formerly Channel 2 News) on Thursday.
According to those sources, if PA chairman Mahmoud Abbas does not come to his senses soon and returns to the negotiating table, U.S. President Donald Trump will not stop with the cutting of aid to the PA, and the next sanction will be the closure of the Palestine Liberation (PLO) offices in Washington and the sending of the PLO envoy back to Ramallah.
The report came hours after Trump, during a meeting with Prime Minister Binyamin Netanyahu in Davos, threatened to cut off all monetary aid to the PA unless they agreed to resume negotiating with Israel and harshly criticized the PA for boycotting Vice President Mike Pence when he visited Israel earlier this week.
"They disrespected us a week ago by not allowing our great vice president to see them, and we give them hundreds of millions of dollars in aid and support — tremendous numbers, numbers that nobody understands," charged the president, who added, "That money is not going to them unless they sit down and negotiate peace."
His comments appeared to confirm a Hadashot report from Wednesday which said that U.S. ambassador to the UN Nikki Haley was pushing for further cuts to the American aid to the PA, in addition to the cut in funding to UNRWA, the UN agency for "Palestinian refugees".
Haley on Thursday blasted Abbas, saying that the PA appeared to be unprepared to pursue peace and adding that the U.S. was not interested in "chasing after" PA leaders in a bid to reboot talks between the PA and Israel.
The U.S. has already once threatened to shut down the PLO mission in New York. Back in November, Secretary of State Rex Tillerson sent a letter to the Palestinian leadership warning that the delegation might be shut down as a result of Abbas's call on the International Criminal Court (ICC) to investigate Israel and prosecute Israelis.
Later, however, State Department officials said that it was decided to keep the delegation open for at least 90 days, and at the end of that period, Trump could announce that he is prolonging its activity because it is vital for supporting "meaningful" Israeli-Palestinian negotiations.