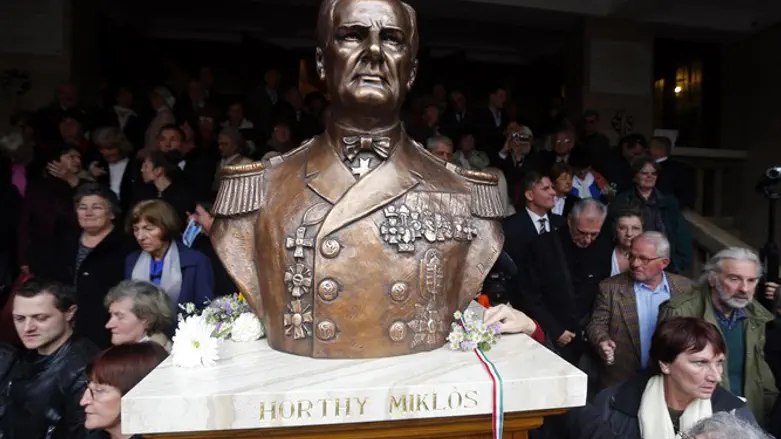 Statue of Miklos Horthy
Reuters
A church in Budapest said on Thursday it had cancelled a controversial mass and memorial for Hungary's Nazi-allied wartime leader Miklos Horthy which had been scheduled for International Holocaust Remembrance Day.
"It didn't enter our heads when we began organizing that it fell on that date," Zoltan Osztie, parish priest at the church, and leader of the event organizers the Association of Christian Professionals (KESZ), told a religious affairs website, as quoted by AFP.
The cancellation came a day after Hungary's main Jewish organization Mazsihisz criticized KESZ as well as Sandor Lezsak, a lawmaker with Prime Minister Viktor Orban's ruling Fidesz party, who was scheduled to make a speech there.
Mazsihisz said the participation of Lezsak, also a deputy speaker of the Hungarian parliament, "tramples on the memory of all the Hungarian victims".
Urging Orban to personally intervene, Ronald Lauder, head of the World Jewish Congress group, said Thursday that it was "truly disturbing that (the event) is being given legitimacy through the participation of a high dignitary of Hungary".
Horthy, an autocrat who ruled Hungary from 1920 to 1944, passed anti-Jewish laws and oversaw the deportations of several hundred thousand Hungarian Jews to Nazi German death camps.
Almost a third of the approximately 1.1 million victims at Auschwitz were Hungarian Jews, according to Mazsihisz. An estimated total of 600,000 Hungarian Jews perished during the Holocaust.
Hungary has experienced something of a Horthy cult revival in recent years, with new statues dedicated to him and streets named after him.
A park has already been named after him in Gyomro, on the outskirts of Budapest. In 2013, a bust of Horthy was unveiled outside a Budapest church, causing protests among locals.
Last year, Hungarian Prime Minister Viktor Orban came under fire from local Jewish groups for praising Horthy during a speech in parliament.
Jewish groups in Hungary have sometimes accused Orban's right-wing government, in power since 2010, of downplaying Hungary's role in the Holocaust.
In 2015, however, Orban admitted his country's role in the Holocaust, saying many Hungarians chose "bad instead of good" in helping deport Jews to Nazi death camps.