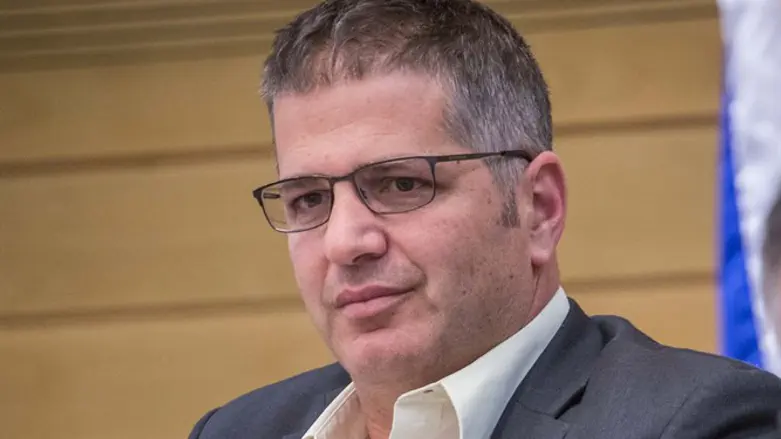 MK Yoav Kish
Flash 90
A feminist lobbyist and Likud member threatened MK Yoav Kisch (Likud) during a Knesset discussion earlier this week.
The discussion centered on whether or not to lower the Tender Age Clause, which automatically hands children to the mother in case of divorce, if even one child is under the age of six.
According to Kisch, the lobbyist, Keren Barak, pulled her hand across the front of her neck and said, "I'm going to eliminate you."
Kisch immediately submitted a complaint to the Knesset Director General and the Knesset officer, but the only result was that the Barak signed a letter stating that "she was informed" that Kisch "felt threatened" and "is sorry he felt that way."
"Certainly, I did not intend for you to feel your life is in danger. If that is how you felt, apologies."
"A lobbyist is sitting opposite me while I'm at my workplace, and she makes a motion as if to slicing her neck and says, 'I'm going to eliminate you' - and everything continues as normal," Kisch wrote on his Facebook page Thursday morning.
"We cannot continue ignoring the complete lack of attention given to the aggression perpetrated against me and the attempts to silence me.... Imagine if a man had done such a thing to a female Knesset member. People would be up in arms."
When the author of this article sent a WhatsApp message to Barak asking if the incident had indeed occurred, she refused to answer his query and immediately proceeded to block him. On a public Facebook post, she claimed she "had no idea" what "caused Kisch to feel threatened," and "certainly did not intend" for that to be the case.
"I don't talk like that," she claimed. "I stick to practical things."
However, she also said that she apologized "only because she wanted Kisch to go back to his children, and not fear for his life," but added that she "hopes he will never fall into enemy hands because who knows what secrets he will tell if he fears for his life..."