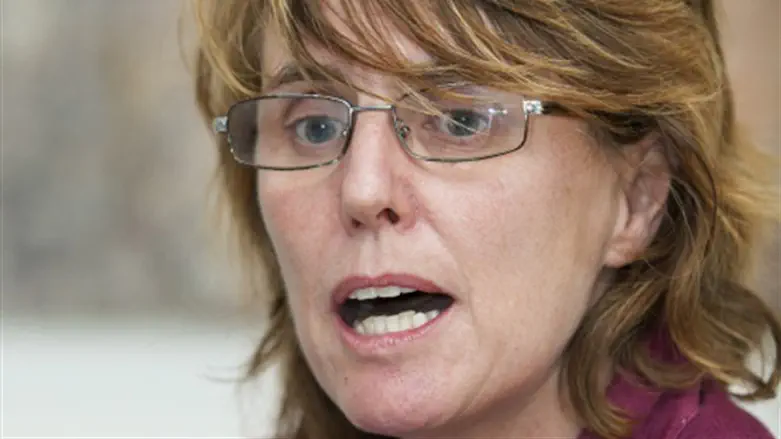 Kay Wilson
Moshe Shai/FLASH90
A British woman living in Israel has urged the British Parliament to probe whether funds the UK has provided to the Palestinian Authority are being used to promote terrorism and support jailed terrorists.
On December 18th 2010, two members of a Palestinian Authority-based terror cell attacked a pair of female hikers outside of Beit Shemesh, west of Jerusalem, stabbing the two women repeatedly.
One of the women, 46-year-old Kristine Luken, an American citizen, was murdered during the attack. Luken's fellow hiker, Kay Wilson, survived the attack, despite being severely beaten and stabbed more than a dozen times.
"I had been stabbed 13 times," Key recalled. "But I somehow managed to get up - with 13 punctures in my lungs and diaphragm, over 30 broken bones, a crushed sternum, dislocated shoulder... I managed to walk over a mile bound and gagged and barefoot through the forest."
"That was without a doubt the longest walk of my life - and it was a lonely, lonely walk because I thought I was going to die."
Now Wilson, 53, is calling on her native Britain to examine whether its primary foreign aid program is funding the very terrorists who murdered her friend and attempted to murder her.
The Palestinian Authority spends hundreds of millions of dollars each year in stipends and other benefits to jailed terrorists and their families. According to data collected by Israel's Defense Ministry, the PA spent a total of 1.237 billion shekels ($358 million), or about 7% of the PA's total annual budget, on terrorist stipends last year.
Last year, PA chief Mahmoud Abbas defended the payments to terrorists and their families.
'Even if I will have to leave my position, I will not compromise on the salary (rawatib) of a Martyr (Shahid) or a prisoner, as I am the president of the entire Palestinian people, including the prisoners, the Martyrs, the injured, the expelled, and the uprooted," Abbas said.
In a letter to MP Stephen Twigg (Labour), who chairs Parlaiment's international development committee, Kay noted that the two terrorists responsible for the attack which took the life of Kristine Luken left Kay seriously wounded have received more than $12,000 each from the PA.
The PA, Kay noted, was a beneficiary of Britain's Department of International Development (DFID), which provides part of the nearly $700 million the PA receives in foreign aid each year.
"In the past Dfid has suspended aid packages when evidence has emerged of taxpayers' money being misspent or on the discovery of unacceptable behaviour and the committee has also been swift to investigate when a misuse of funds or malpractice has been highlighted," Kay wrote in her appeal to Twigg.
"However, despite the fact that your committee possesses wide-ranging powers to examine DFID's work you have chosen to ignore the Palestinian Authority's funding and incitement of terrorism.
"There is now strong evidence that ministers have misled Parliament about how taxpayers' money is distributed and there is incontestable evidence that the Palestinian Authority misuses aid funds, glorifies terror and prevents much needed development funds reaching those most in need.
"As the chair of the International Development Select Committee my co-signatories and I demand that you institute an enquiry into these matters as a matter of urgency."
MP Twigg confirmed that he had received the letter, and pledged to "take its contents very seriously."
"As a committee we generally undertake two major inquiries at a time. However we do have other opportunities to raise issues with Department for International Development (Dfid) ministers and I will discuss with other committee members how best to do so in this case."
A spokesperson for the Dfid denied Wilson's claims, calling them misleading, The Daily Express reported.
"These claims are wrong and misleading. No UK aid is used for payments to Palestinian prisoners or their families."