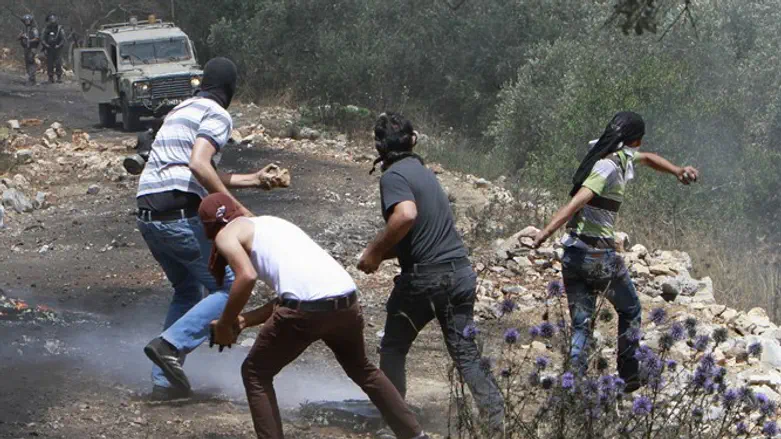 טרור אבנים בשומרון, ארכיון
צילום: רויטרס
Israel's Defense Ministry on Tuesday published a memorandum calling for an end to the financial benefits provided to terrorists and their families in the form of cash payments from the Palestinian Authority (PA).
According to the memorandum, the Defense Minister will submit a report to the Ministerial Committee for National Security Issues summarizing the total annual payments made directly or indirectly to terrorists by the Palestinian Authority.
This sum will then be deducted from the money transferred by the Israeli government to the PA. Israel collects tax payments from PA residents legally working in Israel, transferring the funds to the PA.
The memorandum defines payments to terrorists as "any sum of money... from the Palestinian Authority to security prisoners or their families in payment for crimes committed [against Israelis], during their period of arrest or imprisonment or after their release from arrest or imprisonment, as well as money or money equivalents given to terrorists who were injured, or to the families of terrorists who were killed or injured, in connection with the act of terror committed or its preparation."
The payments are also defined as "money or a money equivalent which is transferred from the Palestinian Authority to regular prisoners (criminals), who receive payments from the Palestinian Authority for criminal activities they committed and which led to their imprisonment."
Defense Minister Avigdor Liberman (Yisrael Beytenu) said, "The Palestinian Authority pays over a billion shekels each year to terrorists and their families, encouraging and perpetuating terror. The moment these payments and their amounts are decided in accordance with the severity of the crime and the length of imprisonment - meaning, someone who murdered and received a life sentence will receive much more money - it constitutes funding terror attacks against Israeli citizens. There is nothing that demonstrates more the fact that the Palestinian Authority supports terror. We must put an end to this."
According to PA statistics, over 550 million NIS ($159,274,500) was paid to imprisoned and released terrorists, and the families of suicide and injured terrorists received approximately 687 million NIS ($198,948,330). These payments total 1.237 billion shekels ($358 million), or about 7% of the PA's total annual budget.
PA statistics show the average terrorist sitting in jail for 3-5 years will receive 2,000 NIS ($579.18) per month, and a terrorist sentenced to 20-35 years in prison will receive 10,000 NIS ($2895.90) per month for the rest of his or her life.
A married terrorist will receive an additional 300 NIS per month, as well as 50 NIS per month for each child. A terrorist from Jerusalem will receive an additional 300 NIS per month, and an Israeli Arab will receive an additional 500 NIS per month.
Israel's median salary is approximately 6,426 NIS ($1,844.91) per month.
The memorandum will be brought to the Ministerial Committee for Legislation for approval, and after that for a Knesset vote.