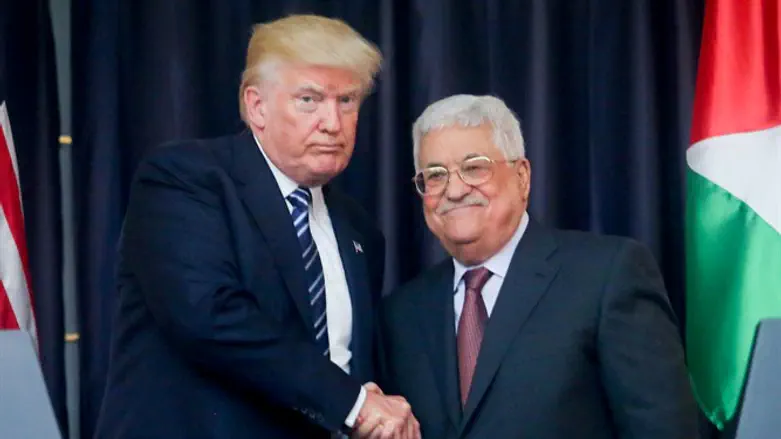 Trump and Abbas
Flash 90
The White House is actively looking at cutting aid to the Palestinian Authority, and is expected to hold a discussion on the matter on Friday, a senior administration official told Haaretz on Thursday night.
The move follows President Donald Trump's tweets earlier this week in which he expressed doubt over the usefulness of American aid to the Palestinians, given their refusal to resume peace talks with Israel.
"We are reviewing our assistance to the Palestinians in light of their recent conduct, per the president's recent message," the official told Haaretz.
Two sources with knowledge of the administration's internal discussion told the newspaper that American support for UNRWA, the United Nations agency in charge of aiding "Palestinian refugees", is at the center of the debate.
The organization's spokesperson, however, said that as of Thursday night, they were still not informed of any specific cuts by the U.S. administration to their budget. The spokesperson added that UNRWA officials are in communication with American diplomats on this subject.
On Tuesday, Trump tweeted that the PA does not show the United States appreciation or respect, hinting that due to this fact, it does not deserve the large amounts of aid it received from the U.S. annually.
"We have taken Jerusalem, the toughest part of the negotiation, off the table, but Israel, for that, would have had to pay more. But with the Palestinians no longer willing to talk peace, why should we make any of these massive future payments to them?" added Trump.
His comments came hours after U.S. Ambassador to the United Nations, Nikki Haley, said in reply to a question about U.S. funding of UNRWA that Trump wants to stop that funding until the Palestinians return to peace talks with Israel under American mediation.
The United States is the largest single donor to UNRWA, providing approximately a fourth of the organization's budget.
The PA responded angrily to Trump's tweets earlier this week, saying that "Jerusalem is not for sale."
Haley's remarks and Trump's tweets came after PA chairman Mahmoud Abbas, fuming over Trump's recognition of Jerusalem as Israel's capital, announced he would not accept any U.S. peace plan.
"The United States has proven to be a dishonest mediator in the peace process and we will no longer accept any plan from it," Abbas said at a press conference with French President Emmanuel Macron last month.
On Sunday, Abbas recalled the PA envoy to Washington, Husam Zomlot, for "consultations" over Trump's Jerusalem move. However, Zomlot returned to Washington just one day later.