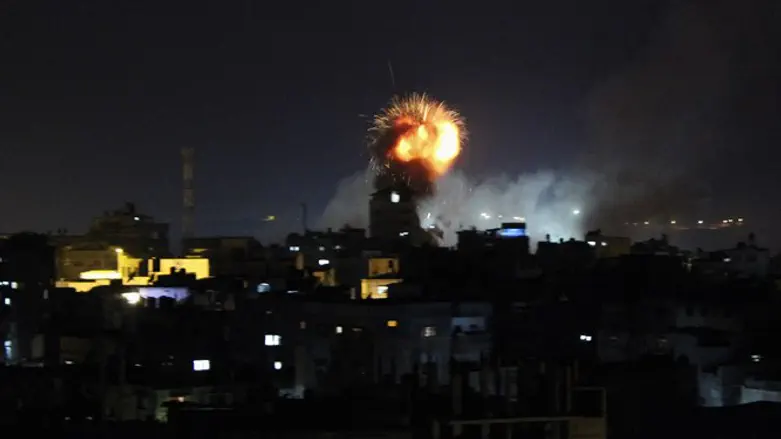 Airstrike in Gaza (archive)
Reuters
Israeli Air Force fighter jets on Wednesday night attacked a central terrorist infrastructure in Gaza, the IDF Spokesperson's Unit said.
"The IDF will continue to use all means to thwart attempts to attack the citizens of Israel. The IDF will not allow any breach of Israeli sovereignty or any hostile attempts by terror organizations such as Hamas and remains prepared for a wide variety of scenarios," the statement stressed.
The airstrikes followed three rocket attacks on southern Israel on Wednesday. The rockets exploded in open areas, causing no physical injuries or damages.
On Monday evening, terrorists fired a rocket from Gaza that exploded in an open area in the Gaza Belt region.
There were no physical injuries. The "Red Alert" incoming rocket siren was not activated before the rocket exploded.
Later on Monday night, IAF aircraft attacked a military compound belonging to the Hamas terrorist organization in southern Gaza.
Last Friday, Gaza terrorists fired three rockets towards southern Israel in the middle of an event marking the 24th birthday of kidnapped and murdered IDF soldier Oron Shaul, whose body has been held by Hamas since the 2014 Operation Protective Edge.
On Saturday night, IAF planes attacked a Hamas observation post in southern Gaza in retaliation for Friday's attack.
"The missiles fired on Friday proved once again that Iran, via rebellious, extremist terror organizations, is working to deteriorate the regional situation and playing with the lives of Gaza residents," the IDF Spokesman said.
"This may cause an escalation in the Gaza Strip, after years of quiet and security. Hamas bears full responsibility for the current situation and its consequences."