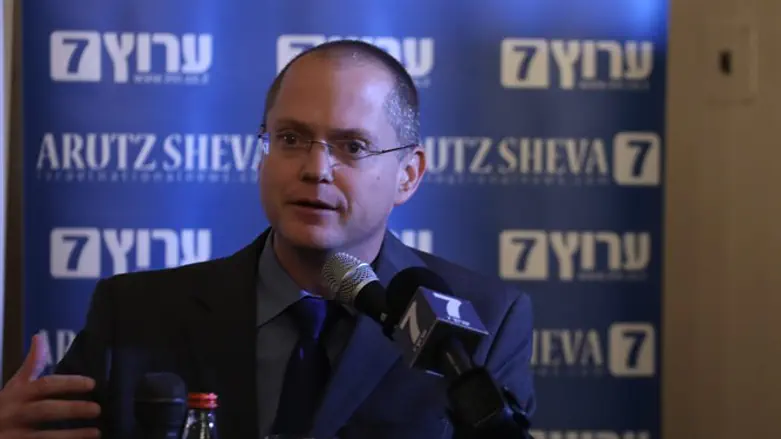 MK Oded Forer
Miri Tzahi
MK Oded Forer (Yisrael Beytenu) submitted a bill aimed at imposing a prison term of up to 10 years on those who publish or disseminate incitement to violence or terrorism against the State of Israel.
The bill seeks to tighten and extend enforcement of the criminal code against public incitement against the State of Israel and its soldiers, including incitement spread among tenured professors.
MK Forer says he considers incitement in an institution which receives government funding to be especially severe. The bill includes increased punishment for incitement originating from such institutions, including heavy fines and jail time.
Under the proposal, any person, organization, authority or body that acts intentionally to harm the State of Israel as a Jewish and democratic state and makes calls encouraging racism, murder or violence shall be liable to imprisonment or a fine.
MK Forer said that "the expansion of incitement to public events has become a real danger. Calls for incitement and for harm to be caused to then State of Israel should not be heard among the masses and certainly not in events and places which financed with the money of Israeli taxpayers."
Matan Peleg, chairman of the Im Tirtzu movement, said that "the increasing violence of students - members of the Joint Arab List - did not surprise anyone. Those who sow incitement sow violence. When Tel Aviv University calls for the destruction of the state on campus in the name of freedom of expression, it paves the way for much more serious actions."
Peleg added that "the responsibility for the escalation lies with the president of the university, and we are calling on Education Minister Naftali Bennett to call him for an urgent clarification. This is a chain of recent cases in which it seems that someone in Israeli academia fell asleep while on duty. The writing on the wall cannot be ignored."