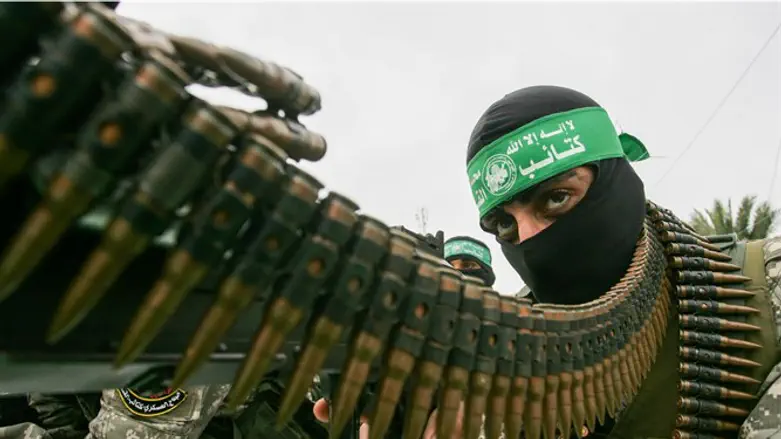 Hamas Gaza terrorist
Flash 90
Hamas calls on "Palestinians and intifada youth" to turn this coming Friday into a "day of rage" against the "occupation" in protest of US intention to recognize Jerusalem as the capital of Israel and transfer the American embassy from Tel Aviv to Jerusalem.
In an official statement Hamas emphasized the importance of arriving to points of friction with the "occupation" in order to "convey the voice of our people that any attack on Jerusalem would bring on an explosion."
Hamas also called on fighters to respond to the American decision on Jerusalem "by all available means".
Hamas chief Ismail Haniya warned Tuesday that a US decision to move its embassy to Jerusalem and
recognize the city as Israel's capital would be a "dangerous escalation" that crosses "every red line".
"The American administration's recognition of occupied Jerusalem as the occupation's capital and their moving the embassy to Jerusalem crosses every red line," the head of the Palestinian Islamist movement, which runs the Gaza Strip, said in a letter to Arab and Muslim world leaders.
"Moving the American embassy to Jerusalem is a dangerous escalation and provides cover for the extremist government of (Prime Minister Benjamin) Netanyahu to carry out its plan to Judaize the city of Jerusalem."
Al-Shabiba, the Fatah youth organization headed by Mahmoud Abbas, also warned of consequences to American policy.
The organization warns of its intention to "turn the table and change the existing equations for al-Quds (the Arab name for Jerusalem, ed.)", noting hat "all possibilities are open".