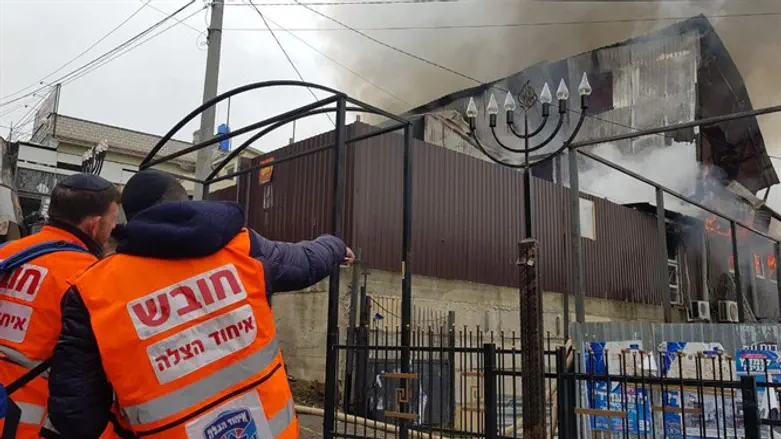 Fire next door to Rebbe Nachman's tomb in Uman, Ukraine
Courtesy of United Hatzalah
A fire broke out next to the tomb of Rebbe Nachman, founder of the Breslov Hassidic movement, in Uman, Ukraine on Tuesday.
The blaze was first reported just after 10:00 a.m. local time in a building adjacent to the rabbi's tomb, which has become a popular pilgrimage site, drawing tens of thousands of visitors each year.
After the fire was reported, United Hatzalah first responders evacuated Jewish school children studying in a nearby religious school.
The first responders then evacuated Torah scrolls housed at prayer spaces in nearby buildings.
Witnesses say heavy smoke billowed out of the burning building next to the tomb, adding that the fire knocked out power in the area, leaving the neighborhood without electricity.
No injuries were reported as a result of the fire.
"Last night we graduated another 12 EMT volunteers in Uman, this morning they already went into action," said founder and President of United Hatzalah Eli.
Lazar Hyman, the Deputy CEO of United Hatzalah and head of the group's volunteer activities was present during the graduation as were various officials from the city and Jewish community.
"In an effort to improve response times in various Jewish communities in the Ukraine including Uman, we have begun sending course instructors from Israel to the Jewish communities in Ukraine who will lead additional EMT training courses. This will greatly improve the life-saving abilities of our teams there throughout the entire year."