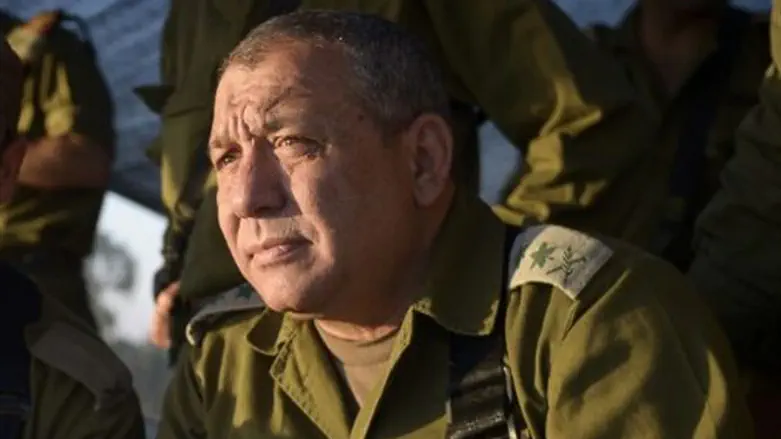 Chief of Staff Gadi Eizenkott
IDF Spokesman Unit
Over the weekend, IDF Chief of Staff Gadi Eizonkot traveled to Belgium for a secret meeting with the commander of the American forces in Europe, Channel 2 journalist Roni Daniel reported on Sunday. The two military leaders reportedly discussed the Iranian military build-up in Syria and the country's civil war winds down.
The secret meeting was the second meeting between Chief of Staff Eizonkot and US General Curtis Scaparrotti in two weeks. The speed with which the second meeting was held indicated that a significant development had taken place which affects Israel and America's strategic position.
The meeting follows a report by the BBC that Iran is establishing a permanent military base in Syria.
The Iranian military is said to have established a compound at a site used by the Syrian army outside El-Kiswah, located 14 kilometers (8 miles) south of Damascus, and less than 50 kilometers (31 miles) from the Israeli border.
Satellite images commissioned by the BBC seem to show construction activity at the site referenced by the intelligence source between January and October this year.
The images shows a series of two dozen large low-rise buildings,- likely for housing soldiers and vehicles.
In recent months, additional buildings have been added to the site. However, it is impossible to independently verify the purpose of the site and the presence of the Iranian military, noted the BBC.
An official from another Western country told the British network that ambitions for such a long-term presence in Syria would not be illogical for Iran.
Iran is a strong supporter of Syrian President Bashar Al-Assad and has been providing him with both financial aid and military advisors against a range of opposing forces.