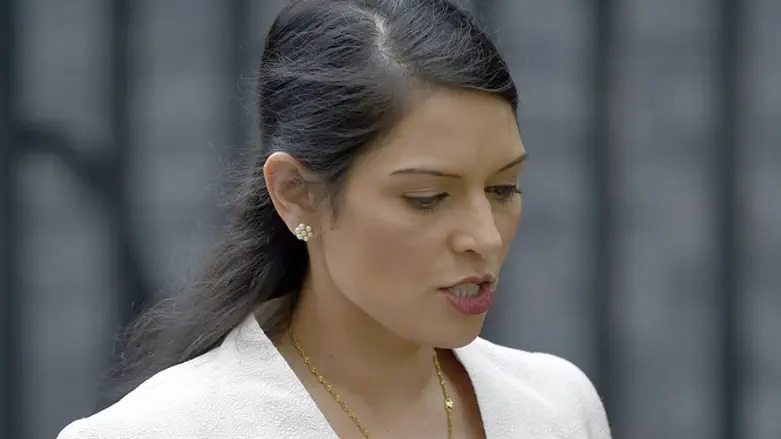 Priti Patel
REUTERS
A minister in Britain's Conservative government will not be fired for unauthorized meetings with senior Israeli officials, including Prime Minister Binyamin Netanyahu, but was compelled to issue an apology Monday.
Priti Patel, the Secretary of State for International Development in Theresa May's Conservative government and a member of the party's "Thatcherite" wing met with senior Israeli leaders while vacationing in the Jewish state this August.
Patel held a total of 12 meetings with Israeli officials during her 13-day visit, including meetings with premier Netanyahu, Internal Security Minister Gilad Erdan, Yesh Atid leader Yair Lapid, and Foreign Ministry Director-General Yuval Rotem.
Britain's ministerial code requires cabinet members to receive approval from the Foreign and Commonwealth Office for all meetings with foreign leaders. Patel has argued that no actual violation of code took place, since her meetings occurred while on holiday.
The Prime Minister May declined to sack Patel, saying there was no "damage", though Patel was upbraided for the matter.
On Monday, May met with Patel, to discuss the implications of her meetings under the ministerial code, a government spokesperson said.
"The prime minister met the secretary of state this morning to remind her of the obligations which exist under the ministerial code."
Patel issued a formal apology Monday, saying that she realized now that her "enthusiasm to engage" with Israeli leaders could be misinterpreted.
"This summer I travelled to Israel, on a family holiday paid for myself," said Patel.
"In hindsight, I can see how my enthusiasm to engage in this way could be misread, and how meetings were set up and reported in a way which did not accord with the usual procedures. I am sorry for this and I apologize for it," she added.