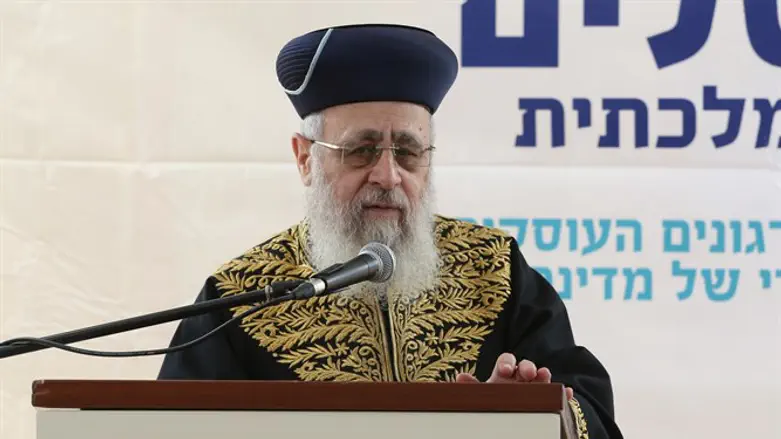 Rabbi Yitzhak Yosef
Eliyahu Yanni
Will Sephardi Chief Rabbi Yitzhak Yosef resign his post in order to revitalize the sagging fortunes of the Shas party?
According to a report in the haredi Mishpacha magazine, top officials in the Shas party are considering asking Rabbi Yitzhak Yosef to resign as Chief Rabbi of Israel and join Shas in order to bring back the popularity Shas enjoyed in its heyday.
As Chief Rabbi, Rabbi Yosef is forbidden from engaging with a political party, but Shas officials believe that Rabbi Yosef can blunt Shas' continuous slide in the polls if he would join the party due to his stature as the son of Shas founder and former Chief Rabbi Ovadiah Yosef.
'Thousands of attendees throng every event which the Chief Rabbi appears at," a senior Shas official told Shas head Aryeh Deri. "It's almost like 25 years ago when Rabbi Ovadiah Yosef was still alive - he brings electricity with him".
Recent polls have shown that Shas is in dire straits, with a Channel 10 poll on Saturday night showing that Shas would not pass the electoral threshold if elections were held today.
Shas' decline from the 17 seats it won in 1999 has been attributed to several factors, including the death of party founder and Sephardic icon Rabbi Ovadiah Yosef and the ongoing police investigations into party leader Aryeh Deri and his wife for alleged money laundering, fraud, breach of trust, theft, fraudulent registration, numerous tax offenses, and corruption.
Reports have been swirling that Shas' leadership has been holding secret talks with deposed leader Eli Yishai regarding his potential return to the party, should current leader Aryeh Deri be indicted.
Deri addressed the rumors for the first time Wednesday evening and admitted that there was a coup attempt to take over the party.
"In recent months, there has been an attempt to make a coup in Shas, an unsuccessful attempt," said Deri at a conference of Shas representatives from local municipalities in Tel Aviv.
"I hereby inform you: Shas is our home. We will continue to lead the movement under the President of the Council of Torah Sages and the Council of Sages. This [coup attempt] will not help anyone," Deri added.