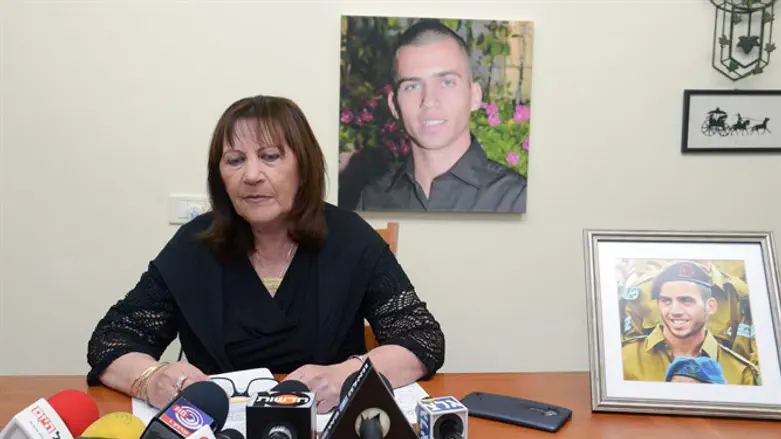 Zehava Shaul, mother of Oron Shaul
Photo by Basel Awidat/Flash90
Zahava Shaul, the mother of IDF soldier Oron Shaul, whose body has been held by the Hamas terrorist organization in Gaza since Operation Protective Edge in 2014, asked Prime Minister Binyamin Netanyahu to instruct the IDF to tell her why he son was declared a "fallen soldier whose burial place is unknown," Channel 10 News reported.
On the day before Yom Kippur, Shaul spoke with Netanyahu and said, "I ask you to intervene and instruct the IDF to give me the information about my son. Former Prime Minister Menachem Begin ordered the families of the missing veterans of Sultan Yacoub to be given all the information without exception. If Begin could give such an order - you can too."
According to the Channel 10 report, Netanyahu explained to Shaul that times have changed since the 1982 Battle of Sultan Yacoub and promised to examine the issue.
According to Shaul, the army refuses to give her the full protocols of the special rabbinical court and the testimonies of the surviving soldiers of the battle of Shuja'iyya in the missing persons unit.
"As a mother, I have the right to know. I will not give up," she said. "I'm sure of one thing - that from their point of view they prefer me to be quiet so that it will stay that way. But I'm not prepared to accept that."
The Prime Minister's Office said in response that the Shaul family would receive an answer in the coming days.