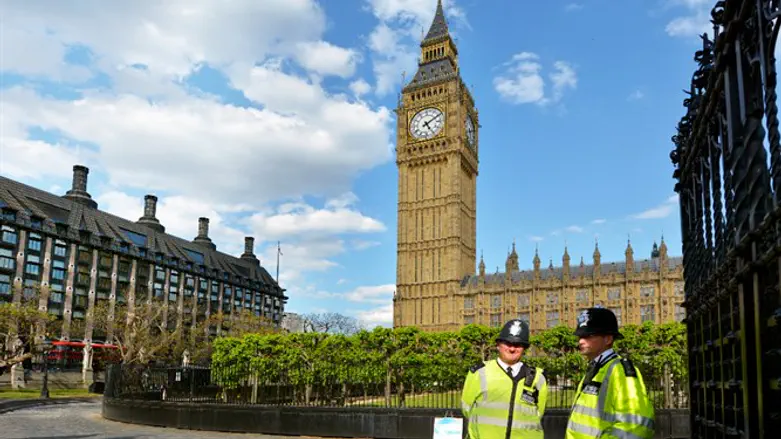 Police in London
IStock
A Los Angeles man was nearly prevented from taking part in his own wedding in England on Monday when he was arrested and eventually deported after being denied a special marriage visa. The diplomatic intervention of senior Israeli officials and the British ambassador, however, helped turn what could have been a wedding disaster into a happy ending.
Yosef Goldenberg, a dual US-Israeli citizen, was set to wed in Newcastle, England Monday afternoon at 3:30. A native of Los Angeles currently studying in a Jerusalem yeshiva, Goldenberg and his bride-to-be, Yael Naomi Maimren of Gateshead, had decided to hold their wedding in Newcastle, near Yael's hometown in northern England.
Under British law, foreigners seeking to wed UK citizens must request a special marriage visa to be permitted to hold their wedding on British soil.
Goldenberg filed a request for the special visa, but was turned down.
When Goldenberg arrived in London's Heathrow Airport last Thursday, he planned to continue on with a connecting flight to northern England.
At customs, however, Goldenberg was asked what the purpose of his visit to the UK was, to which he replied "I'm having a Jewish wedding".
Customs officials noted that Goldenberg's visa request had been denied, and that because of his arrival despite the denial, Goldenberg was now barred from entering the UK as a tourist.
Goldenberg was placed under arrest and detained in a Heathrow police station for three days before being deported to Israel.
Appeals by the bride's family to UK officials that he be released from arrest and permitted to remain in the country for his wedding were denied.
Word of the arrest and subsequent deportation eventually reached Interior Minister Aryeh Deri (Shas), who raised Goldenberg's case with the Foreign Ministry.
The Foreign Ministry claimed that it was unable to intervene on Goldenberg's behalf, since he had attempted to enter the UK with an American passport.
Frustrated, Deri turned to Prime Minister Binyamin Netanyahu, UK Ambassador to Israel David Quarrey, and officials in the UK for assistance.
Despite the efforts, by Sunday night, it appeared that all hope was lost, and that the families would have to reschedule the wedding outside of the UK and hold a small ceremony with just immediate family.
But Deri persisted in his efforts to convince British authorities that the couple should be given a special permit. Arguing that Goldenberg had no intention of staying in the UK, Deri showed that the groom was enrolled as a student in Jerusalem, and that the couple had already rented an apartment there.
"I personally guarantee that within 10 days of the wedding, the bride and groom will leave England and move to Israel," said Deri. "My ministry has checked and found that the couple has rented an apartment in Israel, and that his yeshiva is waiting [for him to return]."
British officials finally relented and issued a special one-time entry permit for Goldenberg, allowing him to enter the country Monday morning and make it to his wedding just an hour and a half late.
"It took hours of intense effort, and at a certain point they told us that there was simply no choice and that we'd have to give up," said Deri, "but I'm happy that in the end clear-headedness prevailed and I was able to convince them that this whole thing was the result of an innocent mistake and a misunderstanding."