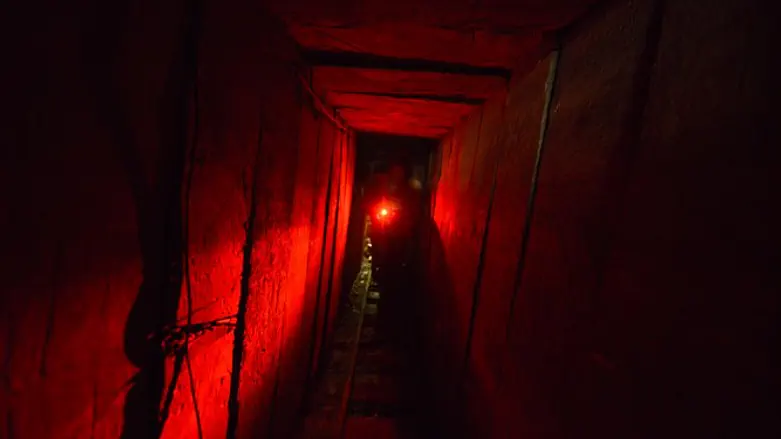 Gaza terror tunnel
IDF spokesperson
The Islamic Jihad terrorist organization warned that Israel's destruction of a network of terror tunnels leading from the Gaza Strip into Israel constituted a "dangerous escalation" Monday.
"The Israeli bombing is part of a dangerous and planned escalation aimed at changing the situation and damaging the reconciliation between the factions," a spokesperson for the terrorist organization said.
At least eight people were killed in the explosion of the tunnels. Four of the dead have been identified as terrorists belonging to the Hamas and Islamic Jihad terror groups.
IDF spokesperson Brigadier General Ronen Manlis said earlier that the tunnels, which crossed into Israeli territory, constituted a "blatant violation of Israeli sovereignty" and could not be tolerated.
Brigadier General Manlis stressed that the IDF would continue to use all measures at its disposal, both above and below ground, to thwart attempts to harm the State of Israel and to maintain relative quiet in the area.
Defense Minister Avigdor Liberman praised the IDF operation for successfully destroying the terror tunnels. "I want to congratulate the IDF on a perfect performance that is the result of a significant technological breakthrough that enables us to cope better with the threat of tunnels," he said, adding that "We identified [the tunnel] in time and did what was necessary at the right time."
"This is a blatant violation of our sovereignty and of all accepted rules, and this proves that despite the Palestinian reconciliation, the Gaza Strip remains the realm of terrorism, and from our point of view the responsibility for this undoubtedly lies with Hamas, which controls Gaza. We have no intention of allowing violations of our sovereignty," Liberman added.