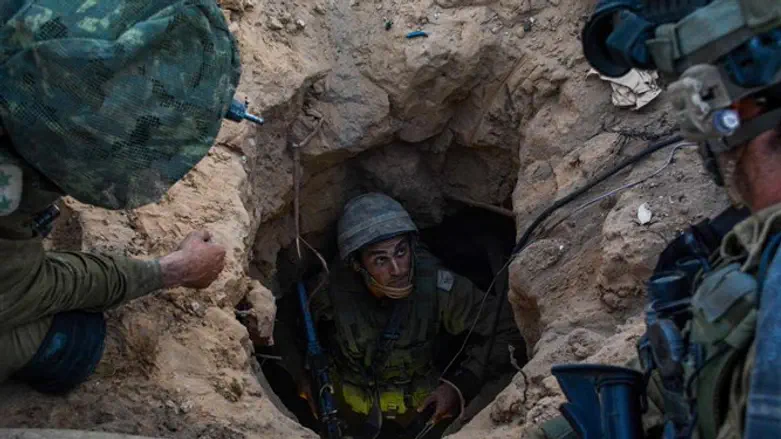 IDF finds Hamas terror tunnel (illustration)
Flash 90
At least seven terrorists were killed when the IDF Southern Command destroyed a network of terror tunnels found near Khan Yunis in southern Gaza Monday afternoon, AFP reported.
According to Gaza's health ministry, Ahmed Abu Armanah, Omar al-Faleet, and Misbah Shubir, was killed in the explosion which destroyed the terror tunnels.
A senior figure in the Islamic Jihad terrorist organization was reportedly killed in the blast.
A security source told AFP that Armanah and al-Faleet were members of Islamic Jihad. The Hamas terrorist organization, which rules the Gaza Strip, said Shubir was a member of Hamas' armed wing, as was another person who was killed in the explosion.
Twelve other people were reportedly injured.
IDF spokesman Jonathan Conricus said the tunnel network in question crossed the border from Gaza into pre-1967 Israel.
"[The IDF] neutralized a terror tunnel leading into southern Israel from the vicinity of Khan Yunis."
The tunnel was detonated from within Israel, close to the security fence. The (IDF's) actions are in light of this grave and unacceptable violation of Israeli sovereignty."
According to Brigadier General Ronen Manelis, the tunnel extended deep into pre-1967 sovereign Israeli territory, and thus posed a serious security threat to Israel.
The IDF responded by destroying the tunnel, setting off an explosion in the tunnel as close as possible to the Gaza border, approximately one kilometer (0.6 miles) from the town of Kissufim.
According to the IDF, additional units will be sent to the area as a precaution against further security incidents.