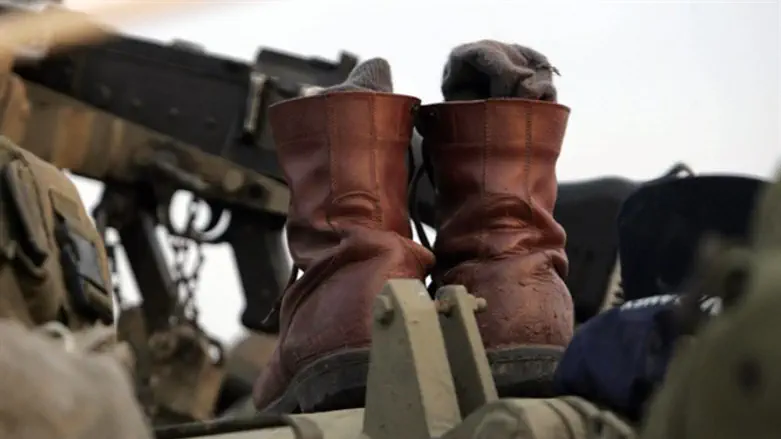 Military boots (illustrative)
Flash 90
The IDF has decided to change its longstanding policy and will distribute boots to all of its soldiers that were previously reserved only for troops serving in the infantry and special forces.
The infantry boots were first introduced in 2006 and were seen as a vastly improved version of what soldiers had been receiving until then. As they were only issued to infantry soldiers and commandos, the boots quickly became a coveted status symbol and a thriving black market erupted in the IDF in which soldiers who did not receive the boots would try to get their hands on them through any means possible.
As a result, the IDF decided to distribute the boots to all of its soldiers equally. On Sunday the Armored Corps handed out the new boots to officers and tank commanders and new recruits will receive the upgraded boots in the November draft cycle.
Reserve infantry soldiers will have their boots switched out in January 2018, followed by the rest of the IDF's combat units in 2019 and the IDF non-combat soldiers will get the upgraded boots in 2020.
A minor fuss erupted over IDF footwear when the IDF announced in 2014 that it would cease buying shoes from the Israeli Brill company and would purchase boots from the United States instead. Brill laid off 100 employees as a result and some had criticized the IDF for causing Israeli workers to lose their job.
The IDF's decision to distribute its top of the line boots to all of its troops is not the only cosmetic change the army has announced recently. Last week, the IDF announced that it would revamp the fabled jump wings that are given to those graduating its parachuting course.
On the new pin, the parachute will be square with a sword in the background. It will be given to fighters who undergo a tactical parachute training course that include's High Altitude Low Opening (HALO) jumps, which is done mainly by special units such as Maglan and the Sayeret Matkal. Combat soldiers who finished the non-tactical parachuting course will continue to receive the familiar wings.
A new pin will also be given to tactical jump instructors. Instead of the pin with the white background, they will receive a unique pin, decorated with a bouquet and a star, at the end of their training.