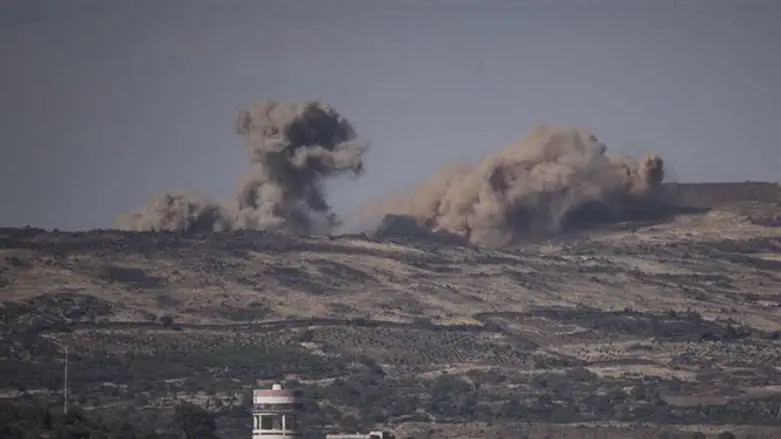 View from Israeli Golan Heights of fighting in Syria (file)
Basel Awidat/Flash 90
Sources in the defense establishment say that the rockets that landed in the northern Golan heights yesterday were likely not mere "spillover" from the Syrian civil war, but had been fired intentionally onto Israeli soil.
On Saturday, the IDF destroyed three Syrian artillery cannons after five rockets landed in the northern Golan Heights.
The rockets fell in an open area and did not cause damage or injuries.
Subsequently, the IDF spokesman first said that the rockets were the result of spillover from Syria's civil war.
"This is a serious incident, even if it is the result of spillover," the spokesman said. "If events such as this continue, Israel will be forced to respond more harshly. The IDF will not tolerate any attempt to harm Israel's sovereignty or the security of its citizens. We see the Syrian government as responsible for what happens in its territory."
However, defense officials told Israeli media that the shots were likely not mere spillover as there was no shooting going on in the area from which they were launched.
Speaking with NRG, one senior officer in Northern Command (Res.) explained, "It was not mortar shells or artillery shells, but rockets that hit our territory," and went on to establish that "The chance that it was unintentional is very low: There were no battles taking place in the area from which the rockets were launched."
"It is very possible that this is a message from Syria," he continued. "Our main fear at the moment is that this will become routine, because we have noticed the region heating up since March."
According to General (Res.) MK Eyal Ben-Reuven (Zionist Union), the shooting may manifest the first signs of Iranian pressure on the Syria-Israel border in the Golan Heights.
"Iran has an unequivocal interest in an escalation on our border," he said, according to NRG, explaining that Iran "collects terrorists from the whole Shiite-Islamic world and establishes militias. So they still aren't a military threat in the Golan, but later Iran apparently intends to approach the Israeli border via Hezbollah."
"The true owner of Syria, Russia, is not successful in stopping this, and the Americans aren't there and are not pressing for Iran to stay away from the Israel-Syria border," he continued.
"Therefore, we are certainly approaching the possibility of a significant escalation in the northern region."