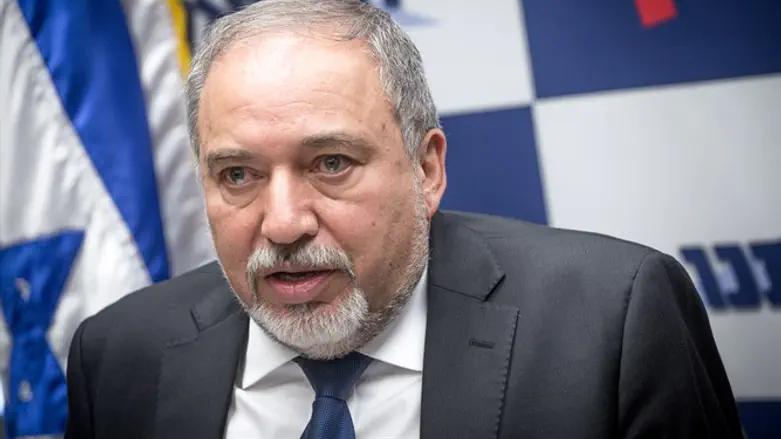 Avigdor Liberman
Miriam Alster/Flash 90
Defense Minister Avigdor Liberman (Yisrael Beytenu) is promoting a bill enabling him to shut down the Eli pre-military yeshiva over comments made by co-head Rabbi Yigal Levenstein in March.
The bill was initiated by Knesset members Oded Forer, Hamad Amar, Robert Ilatov and Yulia Malinovsky, all of whom are a part of Liberman's Yisrael Beytenu faction.
If passed, the law would enable the Finance Minister to strip a religious institution from receiving taxpayer money if its spiritual authority calls to evade IDF service, incites against a certain sector of the population, and discriminates against anyone on the basis of color or sexual orientation.
A senior political source told Arutz Sheva that the bill's purpose is to close the the Eli pre-military yeshiva and to oust Rabbi Yigal Levenstein. As Defense Minister, Liberman can only affect the small hesder (5 year Torah study-army combination) yeshiva part of the institutiion, and is aiming for a law that empowers him over the one-year mechina (pre-army preparatory) yeshiva program, one of the largest in Israel.
Liberman had locked horns with the Eli yeshiva back in March after Rabbi Yigal Levenstein caused a storm in a speech opposing IDF combat service for religious girls, saying that "the IDF made our girls crazy, they go in the army as Jews and leave as non-Jews," as well as creating severe halakhic problems for observant male soldiers face in mixed units.
The Chief Rabbinate had panned IDF service for girls, combat and other, since the state's inception, but certain rabbis who have defied that halakhic decision..
Liberman had vowed to shut the Eli yeshiva unless Rabbi Levenstein was fired but was prevented from doing so by Attorney General Avichai Mandeblit, who ruled that Liberman had no authority to hold a hearing for Levenstein and cannot remove Levenstein's yeshiva from the list of approved programs.
In the wake of the Defense Ministry's demand, the Yeshiva responded by stating that "as people who educate their students about the importance of freedom of speech, we will not cooperate with any attempt to harm the freedom of speech of rabbis, students and alumni of the Bnei David institutions."
Liberman's bill is not expected to pass due to the prominent place the Eli yeshiva plays in the Religious Zionist community. Eli was the first-ever pre-military preparatory program and has educated thousands of IDF officers and soldiers in elite units.