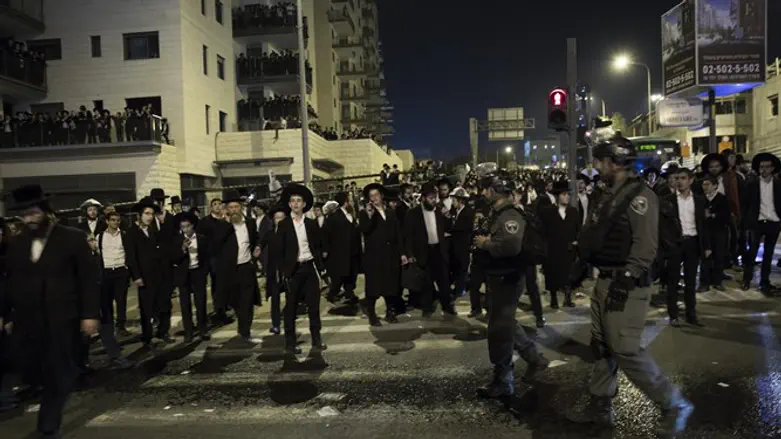 anti-draft demonstration
Yonatan Sindel/Flash 90
Despite difficult photos from recent protests and the distancing of most of the haredi public from them, members of the "Jerusalem Faction" said that they will hold a "day of rage" tomorrow in areas across the country.
Their protest comes on the heels of a wave of arrests of demonstrators in recent days, and the transfer of draft-dodgers among them to military police jurisdiction. It also follows the continued remand of two draft-dodgers arrested at the start of the week.
An official statement released by the Faction said that "The masses of the House of Israel will not rest and be silent until the removal of the blemish of the draft decree hovering over the heads of yeshiva students."
Despite not being asked to protest today, several dozen demonstrators from the Faction went out to the streets of Bnei Brak, disturbing public order. Police who arrived at the scene dispersed the demonstrators.
All Israelis must register with the IDF by the age of 18. Those who are full time yeshiva students and request a deferment are accorded one and can renew it without difficulty. The Jerusalem Faction does not want to register at all.