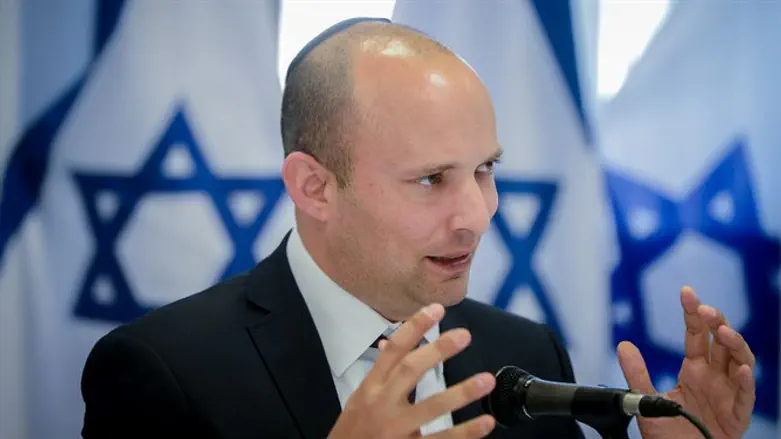 Naftali Bennett
Flash 90
Education Minister Naftali Bennett (Jewish Home) on Friday said Israel cannot accept the reconciliation agreement between the Palestinian Authority (PA) and Hamas.
A tweet published on Bennett's Twitter feed showed a picture of a Hamas terrorist, captioned, "This is Saleh al-Arouri. He signed a 'unity' agreement yesterday with the PA, in the name of Hamas. He is the one who orchestrated the kidnapping of three teenage boys three years ago. This is a national terrorist government."
"We have no moral right to stutter or give in. We must act with strength to fight these terrorists, and we must not be silent partners in the efforts to whitewash Hamas. Any cooperation with them will only encourage terror."
On Thursday night, Bennett said that "the Palestinians chose today to create a terrorist government. The one who signed the agreement is Saleh al-Arouri, the terrorist behind the kidnapping and murder of three teenage boys. A union between PA Chairman Mahmoud Abbas and Hamas will turn the PA into a terrorist entity. The State of Israel must sever all relations with this terror organization."
"From now on, any cooperation between Israel and Abbas is cooperation with Hamas. We must make this clear, because there will be new international pressure on Israel to renew negotiations with the PA following the agreement.
"Our responsibility to Israel means we must immediately halt the transfer of funds to the Hamas government, and we must stop acting as if we were an 'ATM' for terrorists. This is especially true since the kidnapped soldiers were not returned to Israel, and the PA has not ceased its incitement or the payments to terrorists."
Last week, Israeli Prime Minister Binyamin Netanyahu said that he expects "anyone who talks about a peace process to recognize the State of Israel and of course to recognize a Jewish state. We are not prepared to accept imaginary appeasement in which the Palestinian side supposedly achieves [internal] reconciliation at the expense of our survival."
"To those who want to achieve reconciliation, our message is very simple: Recognize the State of Israel, dismantle the military wing of Hamas, sever the connection with Iran calling for our destruction and so on."
Diplomatic sources said that "any reconciliation between the PA and Hamas must fulfill the Quartet conditions, including recognition of the State of Israel. Continuing to dig tunnels, create missiles, and initiate terror activities against Israel contradicts the Quartet conditions and the US efforts to renew diplomatic relations."
The source also said that in addition to these conditions, Israel demands the immediate release of Israeli civilians Avraham Mengistu and Hisham a-Sayed, as well as the release of IDF soldiers Hadar Goldin and Oron Shauls' bodies. All are being held by Hamas in Gaza.
"As long as Hamas does not lay down its weapons and continues calling for Israel's destruction, Israel sees Hamas as responsible for any terror emanating from Gaza," the source said.
"Israel insists the PA not allow any footholds for Hamas in Judea and Samaria. This applies to Gaza as well, if the PA becomes responsible for the area. Israel will closely observe developments, and will act accordingly."