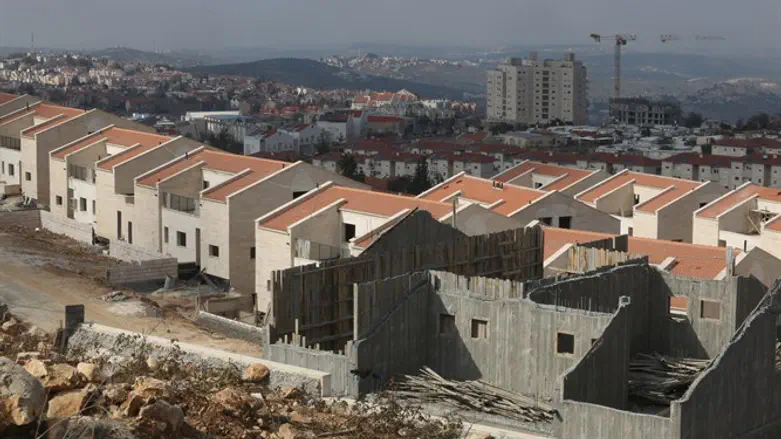 Construction in Samaria
Flash 90
More than 3,800 housing units in Israeli towns across Judea and Samaria will be given final approval next week, a report by Channel 2 claimed Sunday night.
According to the report, 3,829 housing units in Judea and Samaria will be given building permits next week, as the Civil Administration Higher Planning Committee meets for the first time since the Rosh Hashanah holiday marked the beginning of the new Jewish year.
The new wave of construction marks the first time in some four decades that new housing units in the Jewish community in Hevron have been authorized. Hitherto, the Jewish community in the historic city has expanded only through the purchase of existing buildings from local Arabs.
The 3,829 new homes expected to be approved include projects in Ariel, Beit El, Tzofim, Rehalim, Nogohot, Hevron, Givat Zeev, Tekoa, Kfar Etzion, Avnei Hefetz, Nofim, Kochav Yaakov, Har Bracha, and Maaleh Michmash [Michmas].
The Channel 2 report confirms claims made to Arutz Sheva by a senior Israeli official late last month that more than 3,000 housing units would be approved at the next Civil Administration Higher Planning Committee meeting, which was said to be planned for just after the Sukkot holiday.
The projects slated for approval include 296 homes for Beit El, fulfilling a promise made by Prime Minister Binyamin Netanyahu in 2012 after the Supreme Court ordered the demolition of the Ulpana neighborhood.
In August, Netanyahu reiterated his commitment, claiming that the 300 homes would receive approval from the planning committee "very soon".
"From Beit El will come forth Torah and good tidings - the message of the return of the people to its land, the message of settlement. I will give you more good tidings. Very soon another 300 housing units will be approved, as promised," Netanyahu said in a video message to residents.
Late last month, it was announced that the Civil Administration Higher Planning Committee had postponed a planned meeting during which approval would likely have been given to the new housing units, but which was to have coincided with a visit by special Trump administration envoy Jason Greenblatt.
Following the postponement, a number of Israeli lawmakers criticized the White House, accusing it of walking in the footsteps of the Obama administration.