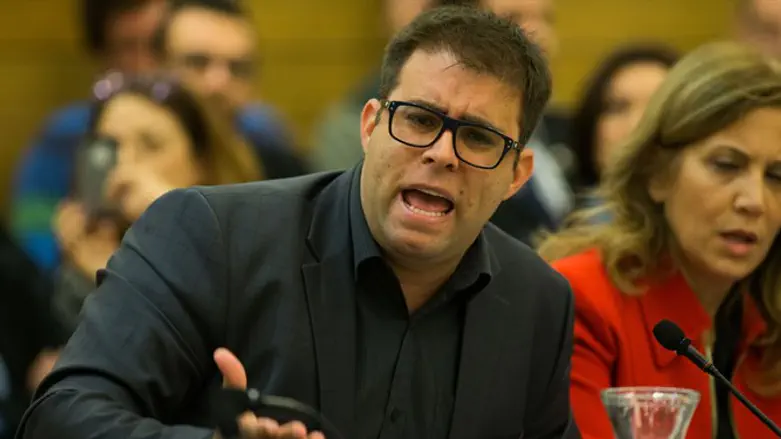 Oren Hazan
Yonatan Sindel/Flash 90
MK Oren Hazan (Likud) on Tuesday night slammed Joint List chairman MK Ayman Odeh, who called Hamas leader Ismail Haniyeh to congratulate him on the reconciliation agreement between Hamas and Fatah.
"Ayman Odeh is a terrorist in a suit. What he managed to hide for two years in which he was smiling, he exposed with one phone call with Haniyeh," Hazan said, announcing that he would file a complaint with the police against Odeh for illegal contact with a terrorist organization.
"The time has come to put an end to this - all of us have had enough of talking, now is the time for operative steps," he said.
Hazan further announced that immediately after the Knesset recess, he intends to collect signatures of Knesset members from the coalition and the opposition in order to remove Odeh from the Knesset, as the law allows today.
"We can continue to talk about the ingratitude of the members of the Joint List. But until actual steps are taken against them - nothing will help and their treachery will only get worse," Hazan said, adding, "[Basel] Ghattas is already in prison – we have to make sure to send him additional members of his faction."
Odeh earlier on Tuesday spoke on the phone with both Haniyeh and Palestinian Authority chairman Mahmoud Abbas, congratulating them on the efforts to reach a reconciliation agreement.
"I spoke today with Palestinian President Abbas and with the head of the Hamas political bureau, Haniyeh," Odeh wrote on his Twitter account. "I congratulated them on the unity [agreement]."
Defense Minister Avigdor Liberman later condemned the Arab Knesset leadership following Odeh's conversation with the leader of the Hamas terrorist organization, which seeks to destroy Israel.
"I call on the silent majority of Israel's Arab citizens, who are loyal to the state and are responsible people, to establish an alternative political leadership that will make it clear that despite the importance of the Palestinian issue, we are first and foremost citizens of the State of Israel," he said.