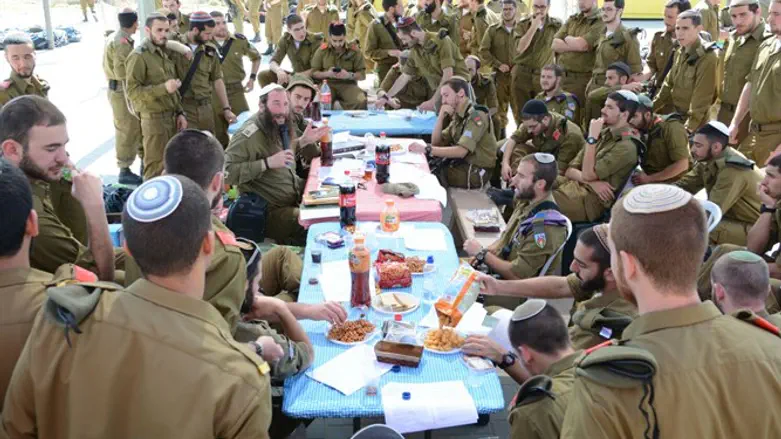 Sunday Happiness Torah class
Uzi Baruch, Facebook
General Aharon Haliva, who commands the IDF's Technological and Logistics Directorate, has ordered that a popular weekly Torah class given to IDF soldiers be scrapped.
The Torah class is called 'Sunday Happiness,' a play on the common phrase 'Sunday Sadness' which IDF soldiers use to describe their despondency upon having to report to base on Sundays. The class was given at Ir HaBahadim (lit. the city of training bases) near Yerucham, at which a large number of IDF soldiers are required to report every Sunday, and enabled soldiers to utilize the extended downtime they have waiting for buses to learn Torah.
The IDF did not provide a reason for the order canceling the class.
General Aharon Haliva has been documented in the past when expressing anti-religious sentiments. In 2010, several Knesset members called for his dismissal after he said that he despises soldiers in the Hesder track, which combines military service with yeshiva study, telling soldiers that "I hate and cannot stand this track."
Haliva also admitted that he refrained from sending soldiers from the Hesder track to officers school. "I would rather take someone not as good to become an officer, but who will stay on for three or four different positions than a soldier from the Hesder track who will leave after one job. It just doesn't pay" he said, despite the fact that hesder soldiers and officers are among the most highly held fighters in the IDF.