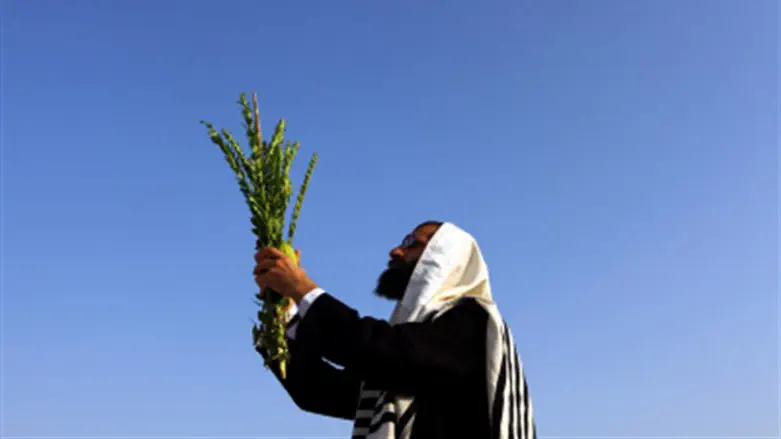 The Four Species
Flash 90
Jews ascending the Temple Mount on the upcoming Sukkot holiday will be forbidden from bringing the "Four Species" with them, police have decided, ruling that they violate the status quo that prohibits Jewish prayer.
The "Four Species" are the etrog (citrus) hadas (myrtle), the aravah (willow) and the Lulav (palm frond) that are mandated by the Torah to be used in special prayers that are part of the synagogue services on each of the seven days of the holiday of Sukkot, excepting the Sabbath.
Chief Superintendent Michael Frankenburg, the legal advisor of the Jerusalem District Police, responded to an appeal arguing that that barring the Four Species violated freedom of worship by ruling that bringing the articles to the Temple Mount goes against the status quo on the site prohibiting Jewish prayer.
Frankenburg wrote that " "in the framework of the rules of the Temple Mount, in accordance with the status quo in the area, ritual activity with overt external features, including the Four Species, is forbidden. We are forced to deny your request."
The current status quo on the Temple Mount explicitly forbids Jewish prayer. In recent years, police have banned Jews from bringing any articles that might cause a Jew to pray, such as banning visitors from carrying drinking water over suspicions that it will lead one to say a blessing.
Michael Puah, chairman of the B'Tsalmo organization, said in response: "It is regrettable that the legal advisor of the Jerusalem District justifies a discriminatory policy. His attempt to ignore the fact that this is a prohibition against Jewish prayers while Muslims are allowed full freedom of worship will lead us to write a letter asking him to clarify the matter."