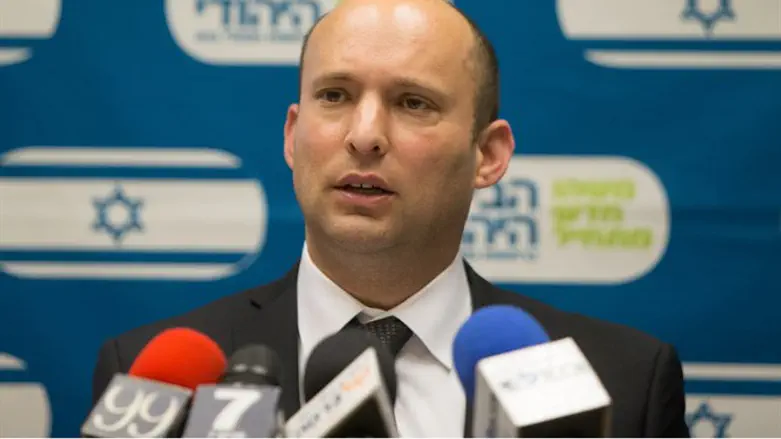 Naftali Bennett
Yonatan Sindel/Flash 90
Labor leader Avi Gabbay on Saturday (Shabbat) expressed opposition to the planned constitutional laws proposed by Education Minister Naftali Bennett (Jewish Home) and Justice Minister Ayelet Shaked (Jewish Home).
The plan's aim is to rein in the Supreme Court's legal activism, creating a balance between the judiciary and legislative bodies. It includes proposing two basic laws: The first to allow taking into account Israel's definition as a Jewish state and its desired Jewish character when making decisions, and the second allowing the re-passing of laws struck down by the Supreme Court as well as limiting the laws the courts can strike down.
"This proposal will destroy the very foundation of judicial independence, and turn the court into a political body," Gabbay said. "I believe Prime Minister Binyamin Netanyahu will also oppose it."
Regarding the investigations against Netanyahu and his wife Sara, Gabbay said, "Corruption harms our national honor. When those closest to Netanyahu are state witnesses, it harms the honor of the entire State of Israel."
"Above all, there is a dangerous political culture, which harms Israel's unity."
On Saturday night, Bennett said, "It's obvious that Gabbay did not take the time to read the details of the proposal. We have no intention of harming judicial independence or the Supreme Court's status. In fact, we are trying to do the opposite."
"The Israeli public has lost faith in the Supreme Court. They feel the Supreme Court oversteps its authority and is tying the government's hands."
"This is what happened to the plan to remove illegal infiltrators, this is what happened to the plans to expropriate residence permits for Hamas members, and this is what happened in many other cases. Therefore, it is now time to act.
"Only by regulating the law can we ensure a healthy balance between the government and the justice system, and restore the public's faith in the Supreme Court."
Israel's Supreme Court has come under fire for striking down legislative procedures and laws with increasing regularity, not always basing its decisons on infringement of Israel's basic laws as it did in the past. In the last two weeks alone, it struck down the Draft Law, the legality of passing a two-year budget and opened the Chief Rabbinate's kashrut supervision to competition from private bodies. Recently, it limited the legislature's ability to deport illegal aliens, bringing south Tel Aviv's residents out to the streets to demonstrate opposite the Chief Justice's home and struck down the Finance Ministry's tax on third apartments.