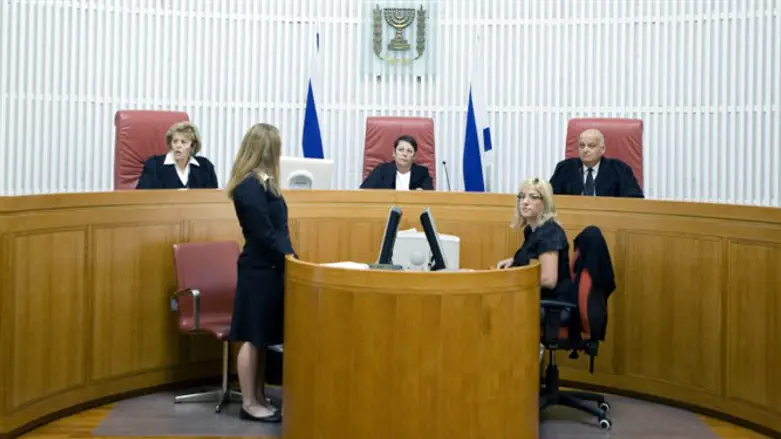 Israel Supreme Court justices
Photo: Flash 90
The Supreme Court rejected a petition on Monday that sought to force the government to allow public transportation on Shabbat.
The appeal was lodged by the Reform movement's Center for Religion and State, along with the Hiddush NGO and Meretz MK Tamar Zandberg.
Justice Neal Hendel noted that the prohibition on public transportation is explicitly enshrined in the law. Justice Chanan Meltzer rejected the petition on the grounds that according to existing regulations, there must be a company requesting a license to operate on Shabbat. "A distinction must be made between the right of the individual and the right to request a license," he told them. "You cannot appeal in the name of a company which does not exist."
The Transportation Ministry congratulated the Supreme Court on its ruling. "The prohibition is based on the Knesset's directive that the minister must take into account Israel's tradition as far as possible regarding the movement of vehicles on Shabbat" it said in a statement.
Hiddush deputy CEO Sagi Amnon blasted the decision. "We regret that the High Court of Justice, although it understood the vital need for public transportation on the Sabbath to large parts of the public, accepted the Transportation Ministry's position and chose to reject the petition. "
"The Transportation Ministry once again proved that due to pressure from the ultra-Orthodox, it is prepared to sacrifice the needs of most of the country's residents, and to ignore the public's desire."
Under the status quo arrangement which has guided public and government policy on issues of religion and state, most public transportation is forbidden in Israel on Shabbat. While certain inter-city bus lines are permitted, mostly for the sake of helping soldiers reach their base, and there is service in Haifa by the agreement, some secular Israelis have pushed to abandon the decades-old status quo.
Shabbat observance has become a hot-button issue lately. Prime Minister Netanyahu is attempting to officially sanction soccer games on Shabbat, and the haredi parties have been at loggerheads with Transportation Minister Yisrael Katz over continuing Israel Railways Shabbat desecration.