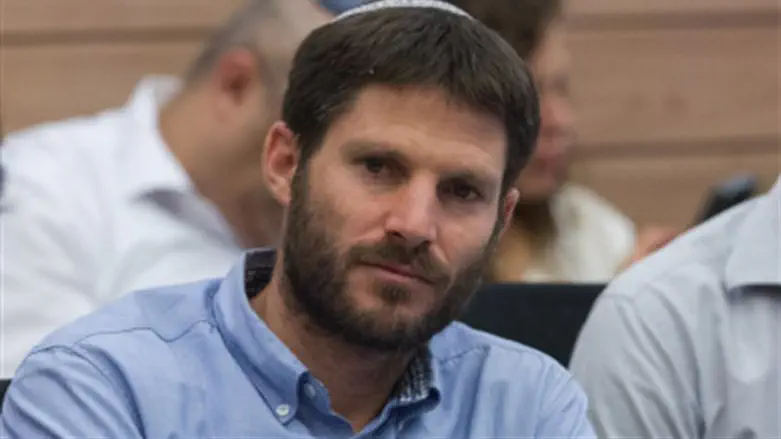 Bezalel Smotrich
Miriam Alster/Flash90
A Jewish Home MK has unveiled a plan to bolster Arab emigration from Israel, and ultimately end the Palestinian Authority.
MK Bezalel Smotrich, a member of the National Union faction within the Jewish Home party, is calling on the State of Israel to provide financial benefits for Arabs who move abroad.
"This is not transfer," said Smotrich, distancing his proposal from the platforms of MK Rabbi Meir Kahane's Kach party and slain Tourism Minister Rehavam Zeevi's Moledet party, which later joined the National Union faction.
"Today, some 20,000 Palestinians leave Judea and Samaria every year," Smotrich told Israel Hayom in an interview published Wednesday.
"Polls show that about 30% of [PA Arabs] would like to move out of the country," Smotrich said, citing a survey published in July by the Palestinian Center for Police and Survey Research.
According to the survey, 47% of Gaza Arabs would emigrate from the Strip if they had the means to do so, while 23% of PA residents in Judea and Samaria said they too would live elsewhere if they were furnished with the means.
"I want to help them to [leave], on fair terms, with full financial compensation and without any coercion. It will be cheaper than to continue to fight wars and have military operations every few years."
In addition to encouraging Arab emigration from Israel, Smotrich's proposal calls for the termination of the Palestinian Authority, the formal annexation by Israel of Judea and Samaria, and the doubling of the Jewish population in those areas.
The goal, says Smotrich, is to "erase the paradigm of Palestinian statehood both on the ground and as a concept."
In doing so, Smotrich suggested, terrorism against Israel would ultimately be reduced.
"It isn't despair that drives terrorism but hope; the core expression of which is the establishment of a Palestinian state. And that's what I'm aiming to quash."
Smotrich's plan also includes a provision offering Israeli residency to Arabs in Judea and Samaria who accept Israeli sovereignty. Full citizenship would also be available to those Arabs who are willing to enlist in the IDF.