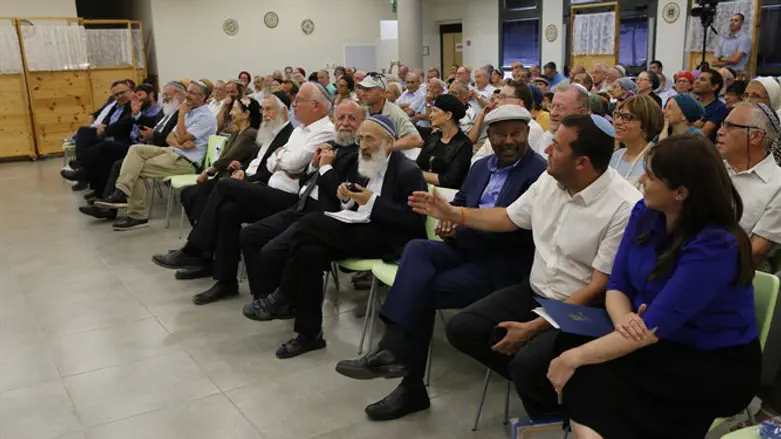 Beit El celebration
Hallel Meir
A series of ministers, Knesset members and prominent public figures arrived this evening (Tuesday) in Beit El to celebrate the main event marking the 40th anniversary of the community's establishment.
Coalition chairman MK David Bitan said at the event that after 40 years the settlement had not grown much, "It represents our overdraft, the Likud's and the Jewish Home's.The Prime Minister will fulfill his commitment, and the 300 homes will be marketed in September."
MK Bitan added that "the solution to Bedouin settlement" in the Negev is to send settlers there.
Agriculture Minister Uri Ariel, Beit El's first council head, said during the event that he wished Beit El to grow even more: "The settlement has grown over the years, but not enough, there should live here five or ten times as many people as now live here.So that Ramallah would look like a small neighborhood compared to it."Minister Ariel added that every Jew whose rabbis agree should go ascend the Temple Mount.
Deputy Defense Minister Rabbi Eli Ben Dahan also congratulated the residents of Beit El and said that Beit El is a consensus in the State of Israel, "We returned to it to stay."
Deputy Foreign Minister Tzipi Hotovely stated that "Beit El is a national symbol, Beit El is one of the pioneers, and a symbol for the many. This place not only shaped generations of settlers but also generations of media people, Arutz Sheva, the only place where a Rightist opinion could be expressed."Hotovely noted the need for a profound change in the legal system."The legal system countermands our most basic values as a Jewish state."
MK Avraham Neguise (Likud MK and activist for the Falash Mura community) said that Judea and Samaria should be built massively, "we want to absorb many new immigrants, and in order to do so we will have to build a lot in Judea and Samaria as well."
MK Yehuda Glick noted that "We're celebrating 4,000 years here, not 40 years. Beit El is not only houses and educational institutions and people: Beit El comprises a great Torah concept.
"We are blessed with important friends who support us all along the way, and we hope to continue the community's momentum, we salute the pioneers who established this tremendous project. Continue to draw us forward with your ideological spirit," said Glick.
"מערכת המשפט פועלת בניגוד לערכינו"