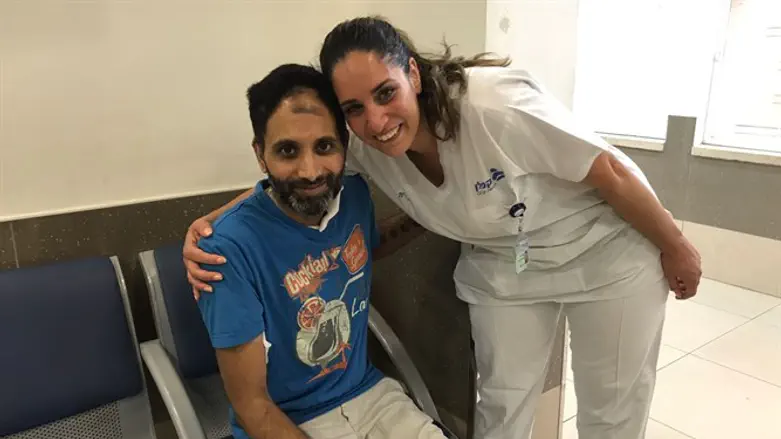 Niv Nehemia
Hospital
An Israeli man who was seriously wounded in a terror attack earlier this month has been released from the hospital, with doctors predicting he will make a full recovery, this just weeks after he almost lost his life.
Niv Nehemia, 42, was stabbed 15 times by a 19-year-old Arab terrorist in a Yavneh supermarket on August 2nd.
The terrorist, a Palestinian Authority-resident illegally living in Israel, was captured shortly after the attack.
Nehemia was in very serious condition in the attack, and was fighting for his life for days.
On Sunday, Nehemia was discharged from the hospital, three-and-a-half weeks after the attack.
Staff at Kaplan Hospital in Rehovot say Nehemia will underwent a series of difficult operations to stabilize his condition, but is now expected to make a full recovery.
"Niv went through a series of complicated surgeries, and he's a real soldier," said Dr. Guy Lin, who manages the emergency care unit at Kaplan which received Nehemia following the attack.
"Together with him, we were able to overcome the difficulties and make amazing progress. He has a long road ahead of him, but in the end, he will make a complete recovery."
Nehemia's mother, Hadassah, expressed her thanks for her son's recovery.
"We thank the Creator of the World and amazing medical staff at Kaplan who treated Niv with such dedication."