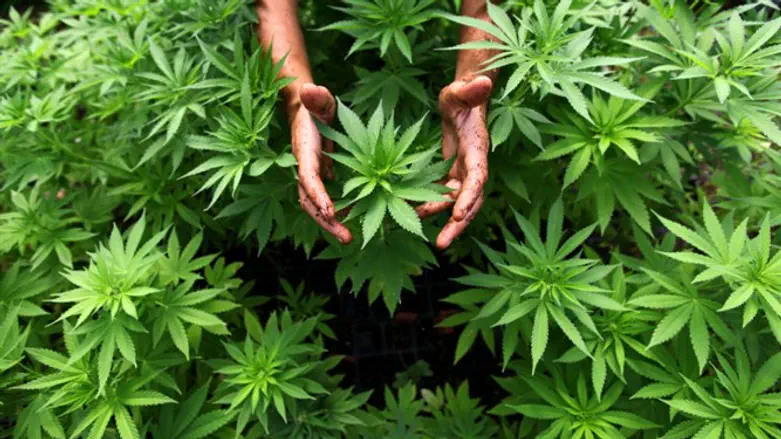 Marijuana in Israel
Abir Sultan/Flash 90
Israel's Internal Security Minister Gilad Erdan (Likud) is opposed to the Health Ministry's recommendation Monday to allow medical marijuana exports, writing in a letter that the police are not yet able to handle the expected flood of requests. Erdan also warned that cannabis shipments were liable to be diverted to criminals.
"Promoting medical marijuana exports are irresponsible, unprofessional and unwise," Erdan wrote in a letter he fired off to Finance Minister Moshe Kahlon (Kulanu) and Health Minister Yaakov Litzman (UTJ).
"The economic benefit does not justify the severe damages that could be caused by Israel becoming the flagship of cannabis export."
Erdan went on to decry the timing of such a move, writing that "promoting cannabis exports at this stage are problematic, before even examining the implications and ending the regulation of cannabis for medical purposes in Israel."
A special committee recommended Monday that the state allow marijuana exports for medical and research purposes, deciding that that the export of cannabis should be permitted in all its medicinal forms, such as smoking products, tablets, and oils.
Minister of Finance Moshe Kahlon praised the recommendations. "Medical cannabis is an industry with significant economic potential for the State of Israel. "It will strengthen Israeli agriculture, and particularly in the Arava region."