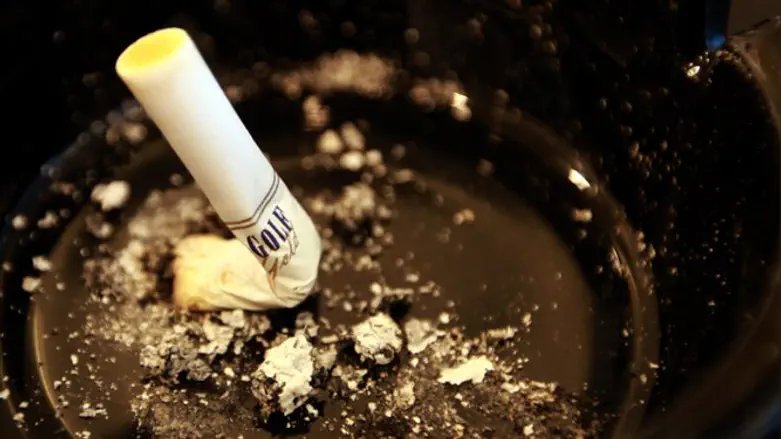 Smoking (illustrative)
Nati Shoshat/Flash90
A new bill proposed in late July would raise the legal smoking age in Israel from 18 to 21.

Initiated by Dr. Marc Luria, the bill, would outlaw the sale, marketing, and advertising of cigarettes to people under age 21, received support from approximately 20 MKs from across the political spectrum. Among those who signed the bill are MKs Yehuda Glick (Likud), Tamar Zandberg (Meretz), Micky Rosenthal (Zionist Union), Yael German (Yesh Atid), Yakov Margi (Shas), Bezalel Smotrich (Jewish Home), and Tali Ploskov (Kulanu).
"The bill is probably the most important piece of anti-smoking legislation since the passing of the 1983 law against smoking in public places," Luria said. "It's primarily meant to reduce smoking among 15 to 17-year-olds, the ages most smokers start smoking in Israel."
"Today, a 15-year-old can always find an 18-year-old to buy him cigarettes, but a 21-year-old, even a smoker, will most likely tell him it's not a good idea."
"By restricting smoking before age 21, we hope to reduce the smoking epidemic significantly in Israel. We hope that this significant legislation will become law before the end of 2017."
Eight thousand Israelis die each year from smoking, with 10% of them victims of secondhand smoke.
According to Luria, smoking is neither a right nor a privilege. Instead, it is an addiction and a burden on society.
"The vast majority of smokers start experimenting with smoking and become addicted as teenagers. The decision to try smoking stems from, among other things, peer pressure," the bill stated.
"Raising the purchase age for tobacco products will significantly reduce the availability of tobacco products to youth and join other steps that have been taken these past few years to reduce smoking among youth in general and restrict the availability of tobacco products in particular."
However, Health Minister Yaakov Litzman (UTJ) does not support the bill, since he is "currently working on promoting" bills which would restrict smoking in public areas" and "does not see a need" for an additional bill.
In July, Litzman announced that he would not submit his report on smoking statistics on time, and did not know when he would submit it.
Responding to Litzman, Glick said, "This is the way the world is going, so we hope the Health Ministry allows us to make it work."
Studies done in the US show that raising the minimum age for smoking reduces the number of young smokers by approximately 50%.
In Israel, 85% of smokers begin smoking before the age of 21. The number of smokers rose from 19.7% in 2015 to 22.5% in 2016. And the number of IDF soldiers who smoke, or begin smoking, during their army service, is on the rise: 37% of released soldiers smoke, compared to 26% of new recruits.
More smoking in the IDF means more soldiers exposed to harmful secondhand smoke, as well as more soldiers who shoot less accurately.
"These troubling numbers show that making tobacco products available to 18-year-olds puts them at risk of starting to smoke, becoming addicted, and resuming smoking," the bill said.