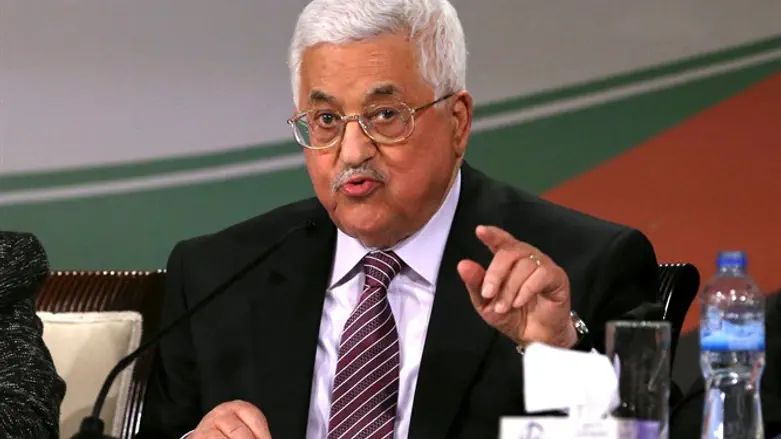 Mahmoud Abbas
Reuters
Palestinian Authority (PA) chairman Mahmoud Abbas has clamped down on social media and news websites with a vaguely worded decree that critics say allows his government to jail anyone on charges of harming "national unity" or the "social fabric", The Associated Press reported on Friday.
According to the report, the edict was issued without prior public debate last month, and critics say it is perhaps the most significant step yet by Abbas's government to restrict freedom of expression in PA-assigned areas of Judea and Samaria.
The government has blocked 30 websites in the past month, according to the Palestinian Center for Development and Media Freedoms, or Mada.
Most of the sites were affiliated with Abbas's two main rivals, his longtime political rival Mohammed Dahlan and the Hamas group which controls Gaza, Mada said. A few of the blocked sites had supported the Islamic State group in Iraq and Syria, according to AP.
Five journalists working for news outlets linked to Hamas were detained this week and charged with violating the new law, according the lawyer of one of those arrested and an official in the association of Palestinian journalists.
Separately, four other journalists were called for questioning about social media posts critical of government policy, according to AP.
The new decree stipulates prison terms ranging from one year to life for those who use digital means for a range of all-encompassing offenses. The list includes endangering the safety of the state or the public order as well as harming national unity or social peace.
Officials in Abbas's office declined to comment on the new decree or on long-standing complaints that Abbas and his government restrict freedom. The officials said it was up to law enforcement and the Cabinet to comment.
Two months ago, Abbas blocked at least eleven Palestinian Arab news websites, including the sites of the Palestinian Information Center and the Shehab News Agency, which is affiliated with Hamas, as well as the "Voice of Fatah", which is known to be close to Dahlan.
In 2012, Abbas also censored media outlets affiliated with his rivals. He subsequently ordered the censorship to be lifted after coming under fire for it.
(Arutz Sheva's North American desk is keeping you updated until the start of Shabbat in New York. The time posted automatically on all Arutz Sheva articles, however, is Israeli time.)