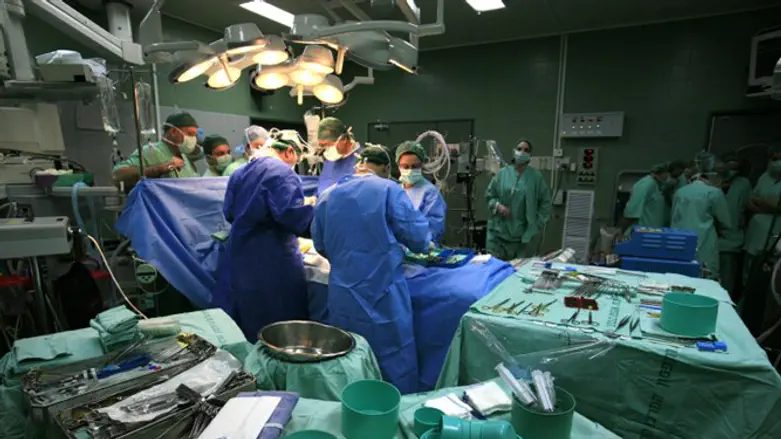 Israeli doctors in action (illustration)
Flash 90
A study published Thursday found that 13 percent of the haredi public in Israel refrained from necessary medical treatment due to economic motives, compared to 8 percent of the non-haredi population.
The survey was was conducted by Nitza Kleiner-Kasir, formerly a senior researcher at the Bank of Israel and who currently heads the labor market and welfare policy units alongside Dr. Dmitry Romanov, former chief scientist of the Central Bureau of Statistics.
The gaps were more dramatic with respect to dental care. According to the study, 53% of the haredi respondents refrain from dental treatment due to the economic difficulty, compared to 32% of the non-haredi Jewish population.
On the other hand, the study showed that although most of the haredi population is not insured by private health insurance, many of them insure themselves through paying extra more for higher level coverage at the main health funds. According to the study's authors, among the haredi public, it is very important to maintain basic medical needs and regardless of the family's income level.
The country's single-payer, multiple-provider system ensures that every citizen receives health coverage, yet insurance providers must compete in order to draw clients and receive funding.
Israel's health system is world-renowned, and a recent study ranked Israel's health care system as the ninth-best in the world, giving it the highest health rating in the Middle East. The study also determined that Israelis citizens have a life expectancy of 82.5 years - eighth highest in the world.