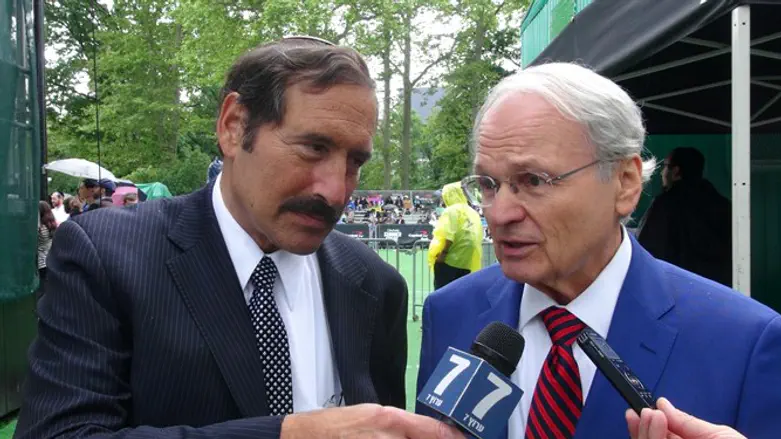 Dr. Joseph Frager and Morton Klein
Arutz Sheva
A recent piece published by the Forward claims that Zionist Organization of America (ZOA) president Morton Klein is more worrying for Jews than controversial Palestinian Arab-American firebrand Linda Sarsour.
"As leader of the Zionist Organization of America, Klein has embraced and defended alt-right figures like Bannon and Gorka for their unabashedly pro-Israel-at-any-costs position, cozying up to anti-Semitic forces if it advances the ZOA's ardent Zionist goals." wrote Forward editorial fellow Steven Davidson in an article titled "19 People Jews Should Worry About More Than Linda Sarsour."
"It would require a book replete with exclamation points to fully explain the dangers of an ostensibly Jewish organization aligning with xenophobic elements to accomplish narrow political goals."
Also present on Davidson's list are Hamas head Ismail Haniyeh, Hezbollah chief Hassan Nasrallah,and former KKK Imperial Wizard David Duke. Bottoming out the list was United States President Donald Trump, whose campaign Davidson wrote "either rode the coattails of the alt-right or allowed the alt-right to follow his nativist coattails."
Davidson had penned the article as a defense for Linda Sarsour, a Palestinian Arab-American activist who has turned into the face of the anti-Trump movement. Many of her comments have made Jews uneasy, such as saying that "nothing is creepier than Zionism" and claiming that supporting Israel and being a feminist are incompatible.
Sarsour also recently called for Jihad(Islamic holy war) against the Trump administration. She later claimed that her remarks were taken out of context, writing in the Washington Post that "I sent not a call to violence, but a call to speak truth to power and to commit to the struggle for racial and economic justice."
The ZOA is a prominent pro-Israel group in the United States, with over 25,000 members.
Klein has served as ZOA president since 1993. A renowned economist, he worked in the Nixon, Ford, and Carter Administrations and is also a member of the International Board of Governors of the Ariel University Center of Samaria.