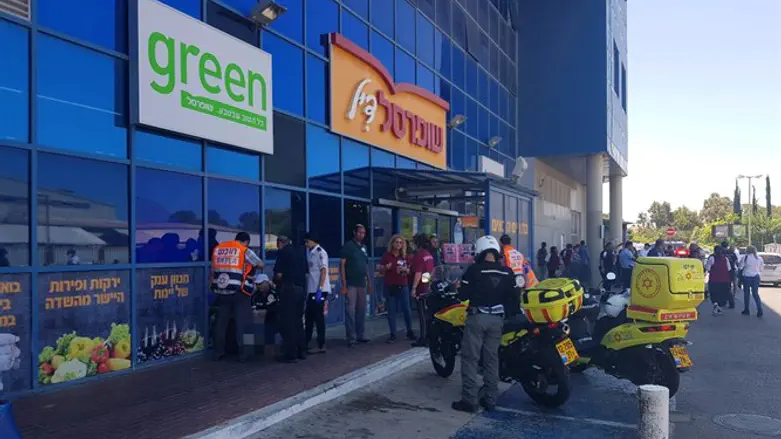 Scene of Yavneh stabbing attack
Magen David Adom spokesperson
Yavneh resident Shlomo Brill was saved by a miracle from Wednesday's stabbing attack.
In an interview with Arutz Sheva, Brill recounted the incident.
"I arrived at the supermarket with my wife at about eleven o'clock," he said. "My wife started to shop, and I had the shopping card. At some point my wife went to the bathroom, so I took the cart and waited. Suddenly a young man appeared in front of me, right next to the shelves, and asked if I work in the store."
"I work in Re/Max Yavneh, and have a red ribbon on my neck with my name and photo, so I guess he thought I work in the supermarket.
"I told him that I don't work at the store, and he turned around and disappeared."
A few minutes later, Brill heard screams.
"My wife had come out of the bathroom and we continued our shopping. A few minutes later, we heard screams from near the cash registers. We didn't know what had happened. Someone yelled that there was a terrorist and someone was stabbed. There was a huge tumult, people started running, escaping, and everyone was coughing because the terrorist had used pepper spray to make it easier for him to stab his victim."
But even though Shlomo was saved by a miracle, it's not easy for him to digest that he got a new lease on life.
"I went back to work, thank God, but it's hard for me to concentrate. I understood that I could have been the one stabbed, and I received another chance at life."
On Shabbat (Sabbath), Brill will say a special blessing in synagogue to thank God for the miracle.
"I'm not a religious person, but I was saved by a miracle, and they arranged for me to hold a special prayer of thanks in synagogue," he said.
Niv Gil Nehemia, 42, was stabbed 15 times on Wednesday by an Arab terrorist from the Palestinian Authority-controlled city of Yatta in the supermarket in which he worked. His condition has stabilized since the attack, but his life remains in danger.
The public is asked to continue praying for Nehemia's recovery.