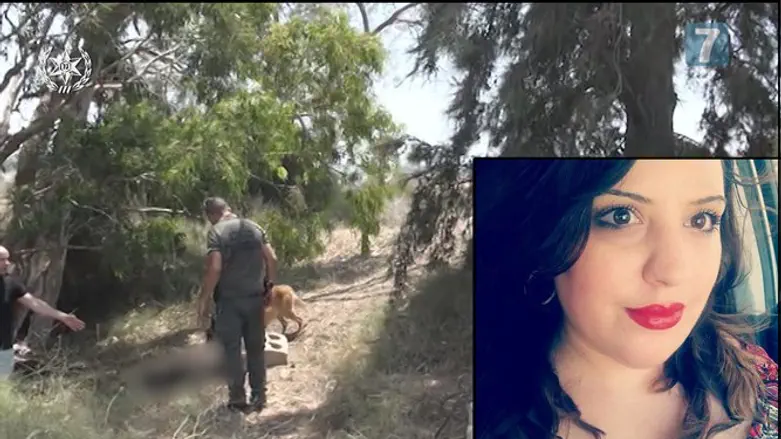 Halimi and the scene of the murder
Israel Police spokesperson
Michal Halimi, 29, lived in a Binyamin-region town Adam when a young Arab man from Shechem (Nablus) murdered her in May.
Halimi was in a relationship with the young man, and was in an advanced stage of pregnancy at the time of her murder.
During May, Israel Police received a report that Halimi was missing, and opened an investigation during which they found that she had left of her own accord and was staying in the home of a Palestinian Arab youth from Shechem, with whom she had a relationship.
On the couple's Facebook pages, they posted pictures of themselves together, and wrote of their intention to become engaged. As the investigation progressed, the young man was arrested. Even during the initial stages of the interrogations, contradictions arose in his answers about where Halimi was staying, raising concerns about his involvement in her disappearance.
At that point, Judea and Samaria Division Commander Major-General Moshe Bareket decided to turn the investigation over to the division's central unit. The new investigators worked undercover, and began collecting various findings using advanced technological equipment. These findings strengthened the suspicion that Halimi was no longer alive.
Michal Halimi
Israel Police spokesperson
As the investigation progressed, arrests were made. Arabs from the Central Arab city of Tayibe were arrested, along with the Arab suspect Halimi was in contact with.
The investigation proved that Halimi and the suspect had a relationship, and that on the day she disappeared, the two of them met near the central city of Holon, where the murder apparently took place.
On July 24, after the unit's detectives searched the Holon sands area thoroughly, Halimi's body was found and identified by Israel's Institute of Forensic Medicine.
The suspected Arab has been interrogated several times, admitted to the deed and recounted exactly how it was done. According to him, he met Halimi near Holon, choked her, threw stones at her head, covered her body, and left the area in his vehicle.
Israel Police said that the professionalism of the investigators, their intelligent investigation, and the way they used advanced technology all helped the complex investigation and aided the analysis and consolidation of evidence against the murder suspect.
Israel Police submitted a suit to the Jerusalem Magistrates Court, In the coming days, the District Attorney's office will submit an indictment charging the suspect of murder and other crimes.
After his arrest and speaking to reporters, the suspected murderer said, "I wanted to kill more Jews!"
"I'm going to kill all the Jews now, one isn't enough for me!"