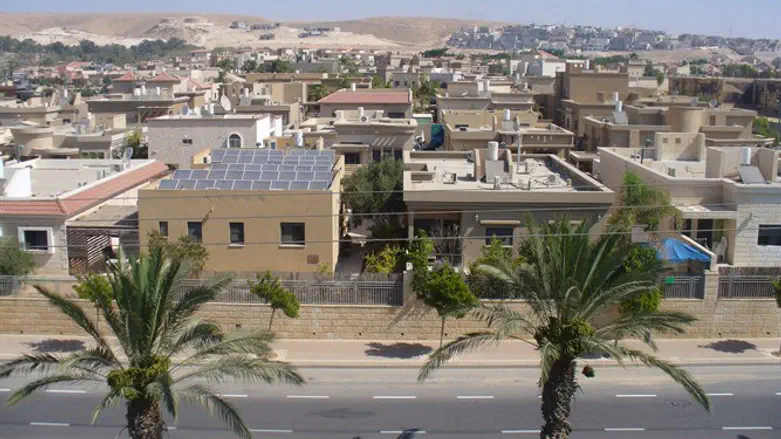 Dimona
Chana Roberts
Dimona Mayor Benny Biton (Likud) on Monday held an impromptu vote, during which the city council decided to gift 101.5 acres (411 dunams) of the city's land to the neighboring illegal Bedouin community of Qasr al-Sir.
The vote passed 7-3, with one absence. All the Likud and the haredi Shas representatives, as well as the local Jewish Home representative, voted in favor of the decision.
Participating in the meeting were representatives from the Interior Ministry (headed by haredi Shas MK Aryeh Deri) and the Finance Ministry (headed by Kulanu's Moshe Kahlon).
According to local residents, the Shas representatives agreed to vote in favor of the bill in exchange for permission to build a specifically haredi neighborhood (currently, each neighborhood has a mix of sectors) and/ or a mall.
According to Negev newspaper Hashavua Hahadash, "Benny Biton gifted municipal lands to the Bedouin, receiving nothing in return. This land, which could have been used for shops, factories, commercial centers, or other business ventures to benefit Dimona's residents, will now become a Bedouin enclave Dimona, bringing their city dangerously close to Dimona's entrance. We will not even receive property tax for it."
"Benny Biton is the only mayor who will be remembered on the one hand as pushing the Israeli government to build five Jewish towns around Dimona, and on the other giving 411 dunams of the city's land to Bedouin."
Opposition head Armund Lankry said, "There is no room for interpretations. The City Council has simply given 411 dunams to Bedouin, and all of their explanations are simply to cover up the awfulness of the truth."
Council member Jackie Edri said, "This was a land grab, at the expense of Dimona's residents. Benny Biton crossed every red line, and you helped him do it. I will not hesitate to bring this case to the Supreme Court, in the name of Dimona's residents. Today you have become partners in the biggest crime, and it will set a dangerous precedent for land all over Israel."
"This meeting was not held according to protocol, and there was no prior discussion of the pros and cons before it was held. The mayor did not even explain to those who were told to vote in favor of the plan why they should support it.
"I have no problem legalizing Bedouin communities. Yes - legalize Bedouin communities. No - not at the expense of Dimona's residents.
"Too much blood, sweat, and tears were spilled over this land for it to be handed out as a present by a mayor who does not take the history, residents, and land's honor into account. The mayor does not realize that this land is ours, and not under his private ownership."
Dimona and Qasr al-Sir
Arutz Sheva
Qasr al-Sir is currently 10 minutes away from Dimona by car. Its residents regularly pave illegal roads, and additional buildings are built on a weekly, if not daily, basis. The current plan would bring the Bedouin enclave literally "across the street" from Dimona, with the mall accessible by five minutes of walking, and the first homes accessible with ten minutes of walking. The city's railroad, meanwhile, would be three minutes away from the enclave.
Dimona also has a small airfield which could be compromised if the plan went through.
Although many Bedouin enlist in the IDF, the Negev has been troubled for years by Bedouin who steal equipment and livestock from farmers and cattle owners as well as weapons from IDF military bases. Last year, Bedouin stoned buses after police removing illegal structures they had built near Kibbutz Rematim.
Currently, Bedouin come to Dimona during the day for shopping, but do not enter the city at night. Under the new plan, Qasr al-Sir would become a neighborhood of Dimona to all intents and purposes, changing that situation.
UPDATE:
On August 3, Biton wrote on the city's Facebook page, "In the past few years, the city's area has grown nearly five times, and currently stands at 171,000 dunams (42,255 acres)."
"The Dimona municipality was asked by the Interior Ministry to 'agree' to give up a small area of 411 dunam (101.5 acres) in order to allow the Bedouin from Qasr al-Sir to settle it. It should be noted that Bedouin from this tribe are currently living on the land illegally.
"The request was brought for a vote, and the city council approved the request... Obviously, this is not a final decision, and in order to make it final we will need the permission of Interior Minister Aryeh Deri.
"The issue of illegal Bedouin construction, especially construction near Dimona, is an issue known to all of us.
"By doing this, we will not be forced to accept the Bedouin as residents of the city, providing them with...services which would be costly to the city.
"The area in question is not intended to be residential, and this transfer will set an historical precedent."