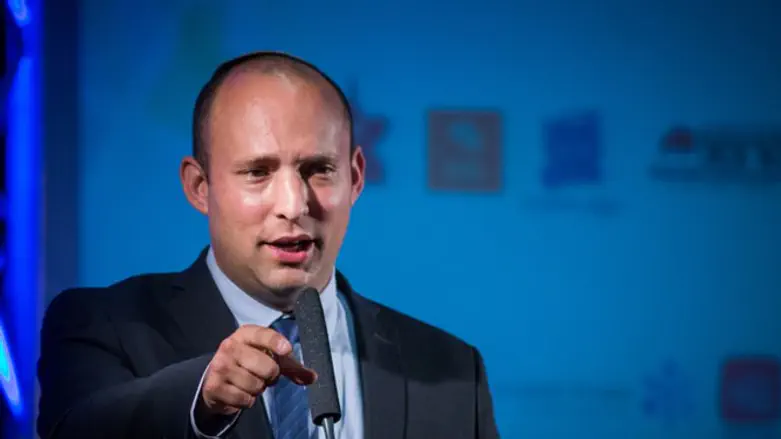 Naftali Bennett
Yonatan Sindel/Flash90
The Knesset approved this evening, Wednesday, in its first reading, the "United Jerusalem Law" spearheaded by Jewish Home party Chairman Naftali Bennett and Jewish Home MK Shuli Moalem-Refaeli.
The Bill seeks to require an 80-MK supermajority for any division of Jerusalem in future peace agreements.
Now, the Bill goes to the Knesset Constitution, Law, and Justice Committee in preparation for mandatory second and third readings.
Bennett praised the development this evening, claiming that the Law's passage will knock down any possibility of Jerusalem being divided again. "The capital city was twice saved from the tragedy of division led by [former Prime Ministers] Ehud Olmert and Ehud Barak, who held temporary majorities in the Knesset. This [scenario] is done for. The United Jerusalem Law, which passed its first reading today, will prevent any possibility of Jerusalem being divided."
"Unity around the United Jerusalem Law will strengthen our standing in the world and prevent future pressures on Israel."
MK Moalem-Refaeli added that the Law is necessary in order to guard against threats to the unity of Jerusalem that are not immediately foreseeable.
"In accordance with past experience, and in light of the current coalition makeup, it is incumbent on us to protect Jerusalem from future possible processes. Even if there is no threat to a united Jerusalem in the foreseeable future, past experience has shown that there can be surprises.
"This law has a clear message: The State of Israel will not allow the establishment of a Palestinian state whose capital is eastern Jerusalem," she said.